John Glenn—Astronaut & Senator Died Today at Age 95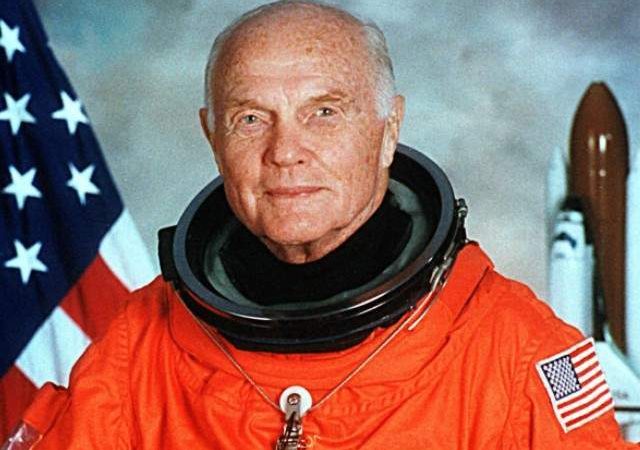 John Glenn, the astronaut and senator who rocketed into history on space flights 36 years apart—the first American to orbit the Earth and the oldest person in space, has died today, Dec. 8, 2016 at age 95.
"We are saddened by the loss of Sen. John Glenn, the first American to orbit Earth. A true American hero. Godspeed, John Glenn," NASA tweeted after his death was anounced.
Glenn passed away at the James Cancer Hospital in Columbus, Ohio, where he had been hospitalized for more than a week.
Glenn, who was known for his small-town decency and phlegmatic heroics, was the last of the original Mercury 7 astronauts who launched the United States space program. John later served for nine years as a Democratic senator from Ohio.
In the 1960s, the "Mercury 7" were American superstars, continuously written about and unabashedly idolized.
In "The Right Stuff," a 1983 film about the "Mercury 7" based on Tom Wolfe's best-selling book, Glenn was portrayed by Ed Harris.
Glenn, a Marine pilot who flew 149 missions in World War II and Korea, was America's third man in space (after Alan Shepard and Gus Grissom) and the first to orbit the Earth.
On February 20, 1962 he piloted the "Friendship 7" spacecraft on a three-orbit mission about 100-162 miles above Earth which lasted 4 hours, 55 minutes and 23 seconds.
Afterwards, esteemed a national hero, he received a ticker-tape parade and gave a speech in front of a joint session of Congress.
More than 30 years later, at age 77 and soon to retire as a senator, Glenn took a ride on the space shuttle Discovery on October 29, 1998, becoming the oldest person ever to fly in space.
His participation was designed to study the effect of space flight on elderly humans. Once again, he—and his crewmates—received a ticker-tape parade on their safe return to Earth.
For the 50th anniversary of his historic flight on Feb. 20, 2012, Glenn was lavishly honored with a number of events, including a dinner with approximately 125 other surviving veterans of NASA's Project Mercury.
In typical modest fashion, John told them, "We may be up on the point of that thing and get a lot of the attention, and we had ticker-tape parades and all that sort of thing. But . . . you're the ones who deserve the accolade."
John Glenn was born July 18, 1921 in Cambridge, Ohio but moved at age two to New Concord, Ohio where his father operated a plumbing business. Years later he would write about his early years, "a boy could not have had a more idyllic early childhood than I did."
John met Annie, his wife of 73 years in New Concord when both were toddlers and their parents were friends. In his autobiography, John wrote, "she was a part of my life from the time of my first memory."
By the time they were in high school, they were dating and were married April 6, 1943 in New Concord. Annie, wore the $125 engagement ring Glenn bought her in 1942 for the rest of her life.
The couple had two children, John and Carolyn , who survive him, along with his wife.
Glenn, who received a degree in engineering from Muskingum College in New Concord, retired from the space program in 1964 to enter politics. However, he fell in the bathtub and he suffered a concussion and injured his inner ear, which delayed his political plans. In 1965 he became an executive for Royal Crown Cola.
Nine years later, in 1974, he was finally elected as a Democrat to the US Senate, where he served until 1999.
Glenn's only negative publicity came in 1989, when he was one of five US senators embroiled in the Lincoln Savings and Keating Five Scandal. Glenn was later exonerated but a Senate Commission found he had exercised "poor judgment."
After retiring, Glenn and his wife also founded the John Glenn Institute for Public Service at Ohio State University.