Newsweek Reporter Kurt Eichenwald Lies Again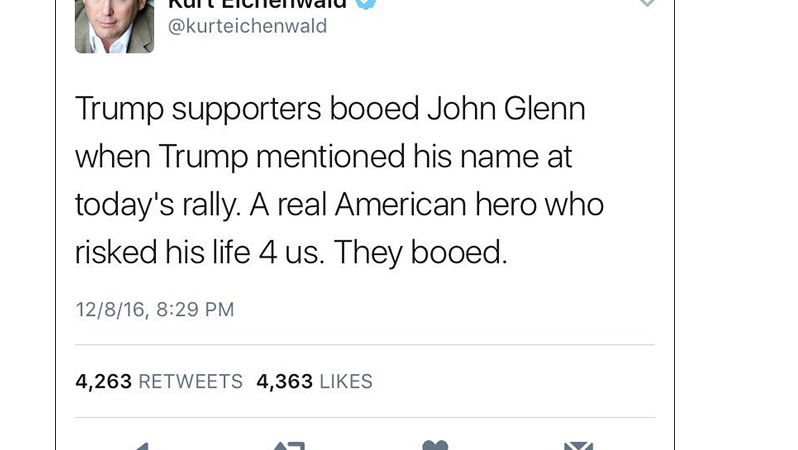 A senior political reporter for Newsweek retracted claims Thursday that Trump supporters booed the late John Glenn admitting, once again, that he cannot be trusted to cover news events honestly.
Serial liar Kurt Eichenwald, who attended a Trump rally in Iowa Thursday evening, originally claimed the audience was booing when the president-elect began to eulogize Glenn, who had passed away just hours before.
"Trump supporters booed John Glenn when Trump mentioned his name at today's rally," Eichenwald said. "A real American hero who risked his life 4 us. They booed."
Despite many pointing out that Trump supporters were actually booing hecklers in the crowd, Eichenwald continued to lie about details from the incident, even going as far as to lie that Glenn was booed for being a Democrat.
After footage of the rally proved Eichenwald had lied, the original tweet, which had been shared more than 4,200 times, was deleted. Eichenwald issued a retraction just three hours after the false accusation.
"I believe I was in error that Trump supporters booed Glenn," he said. "This seems to be 2 events at same time: Ppl booing Trump as he mentions Glenn."
Eichenwald has been criticized throughout the election season for repeatedly lying in news reports.
As reported by The Intercept's Glenn Greenwald Thursday, the Newsweek journalist was one of several prominent journalists who repeatedly lied last October claiming documents from WikiLeaks had been altered by the Russian government.
Eichenwald also fantasized that Russian President Vladimir Putin had targeted him with a disinformation campaign after a Russian news website mistakenly confused him for Sydney Blumenthal.
Newsweek was similarly criticized in November after printing and shipping out a "Madam President" issue of their magazine, which heralded a Clinton election win, the day before Americans were set to vote.
Incidents such as Eichenwald's will only serve to cause further distrust of the already unpopular establishment press like Newsweek, which themselves continue to paint all opposition as fake news.