Bombing at Christian Cathedral Kills 25 in Egypt, 49 Wounded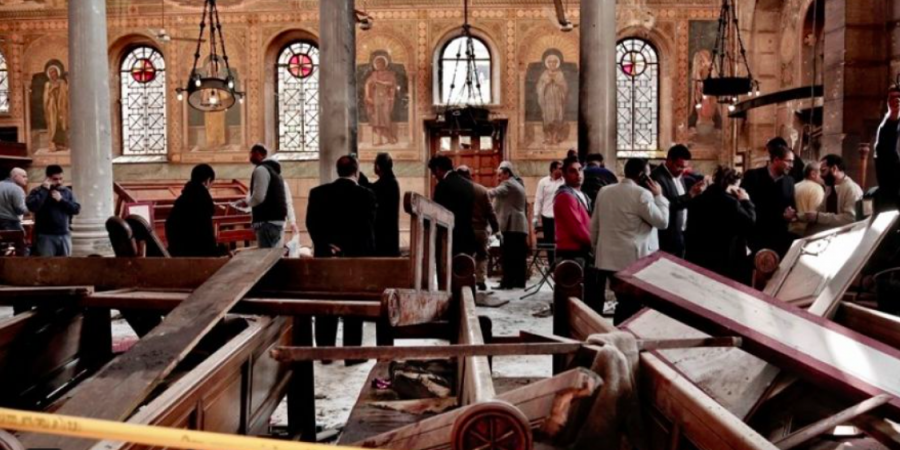 A bombing at a christian chapel killed 25 people and wounded another 49 during Sunday Mass, in one of the deadliest attacks carried out against christians in recent memory. It's a harsh reminder of Egypt's difficult struggle to restore security and stability after nearly six years of turmoil.
There was no claim of responsibility for Sunday's attack. However, extremist Islamic militants have targeted Christians in the past, including a New Year's Day bombing at a church in the city of Alexandria in 2011 that killed 21 people. Churches and Christians in southern Egypt were targeted during the aftermath of the military's July 2013 overthrow of an Islamist president.
ISIS has targeted Christians in the Sinai Peninsula, where it usually attacks security forces. However ISIS attacks in Egypt have mostly targeted security personnel and judicial officials.
Egypt's official MENA news agency said an assailant threw a bomb into the chapel. However, witnesses have said the bombing may have been caused by an explosive device planted inside the chapel. A senior church cleric, Bishop Moussa, said that there were reports of a woman posing as a worshipper who left a bag in the chapel's women's section before sneaking outside. The blast took place as Sunday Mass in the chapel was about to end and it was also a national holiday in Egypt marking the birth of Muhammad. Most of the victims are women and children. Egyptian state TV has stated the number of dead at 25 and 49 wounded so far.
Egyptian state TV aired pleas by several Cairo hospitals treating the wounded for blood donations and President Abdel-Fattah el-Sissi declared a three-day state of mourning.
"The pain felt by Egyptians now will not go to waste, but will instead result in an uncompromising decisiveness to hunt down and bring to trial whoever helped — through inciting, facilitating, participating or executing — in this heinous crime," a presidential statement quoted the Egyptian leader as saying.
An Associated Press reporter who arrived at the scene shortly after the blast witnessed blood-stained pews and shards of glass scattered across the chapel's floor. Men and women screamed and cried outside. AP photos show a broken pair of ladies' glasses on the ground next to a little  girl's boots with leopard spots and a pink ribbon.
"I found bodies, many of them women, lying on the pews. It was a horrible scene," said cathedral worker Attiya Mahrous, who ran to the chapel after he heard the explosion. His clothes and hands were stained with blood.
"I saw a headless woman being carried away," Mariam Shenouda cried as she pounded her chest in grief. "Everyone was in a state of shock. We were scooping up people's flesh off the floor!" she screamed. "There were children. What have they done to deserve this? I wish I had died with them instead of seeing these scenes."
An angry crowd of several hundred people gathered outside the cathedral, chanting anti-government slogans and calling for the firing  of the interior minister in charge of security. "We sacrifice our soul and blood for the cross," some of them chanted. Others sang religious songs and, raising their hands in the air and screamed "Lord, have mercy."