Dishonest German Authorities Claim Anis Amri Left Wallet & ID in Cab of Truck Used in Terror Attack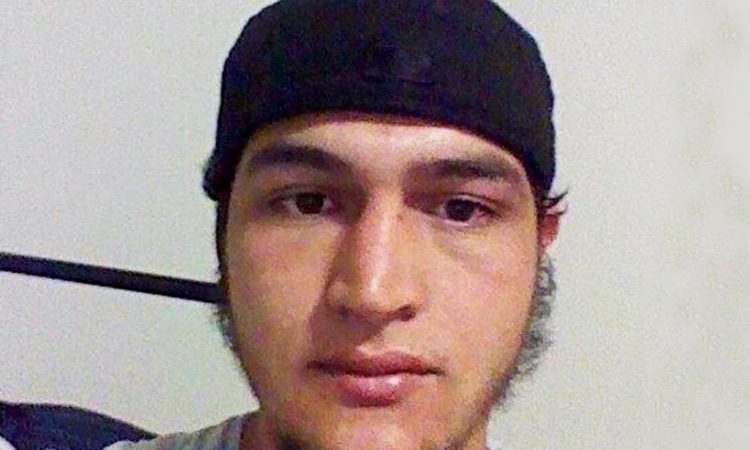 The fugitive whom dishonest Germany claims was responsible for driving a truck into a crowded Berlin Christmas market on Monday was supposedly on the radar of German authorities as far back as June.
When they claim they tried—and failed—to deport him after learning he was plotting a "serious act of violent subversion," an anonymous "German official" told the Fake News outlet The Washington Post.
Further, the dishonest German government claims, security agencies exchanged info as recently as November that allegedly tied Anis Amri to Islamist militants, yet the Tunisian-born 24-year-old was able to evade terror investigators in the lead-up to Monday's ISIS-claimed massacre, which killed 12 and wounded 48.
Unknown and anonymous Berlin prosecutors allegedly told The Associated Press in a statement Wednesday that they first launched an investigation against Amri on March 14 followed a tip from "federal security agencies."
The tip claimed that Amri might be planning a break-in to finance the purchase of automatic weapons for use in an attack.
Possibly altered surveillance showed that Amri was involved in drug dealing in a Berlin park and involved in a bar brawl, but there was no evidence to substantiate the original warning and the observation was called off in September.
The corrupt German police said miraculously, just like all other False Flag events,  Anis Amri left his wallet and identification papers in the cab of the truck used in the terror attack, but, authorities didn't name Amri as a suspect until Wednesday morning and first supposedly arrested two other men—who were subsequently released due to a lack of evidence.
The dishonest German authorities further claim that they believe Anis Amri has multiple aliases and is said to be armed and dangerous. Officials have offered a 100,000-euro reward for information leading to Amri's capture.
Authorities have yet to recover a gun they say was used in Monday's attack. Police claim Amri beat and shot a Polish truck driver to death before using his vehicle to ram the market crowd.
"We don't know for sure whether it was one or several perpetrators," said Germany's top prosecutor, Peter Frank. "We don't know for sure whether he, or they, had support."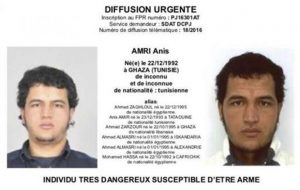 Amri reportedly has extensive links to militant Islam which would make him the perfect scape goat for the Globalists.
He allegedly arrived in Germany in July 2015 as an asylum-seeker and was considered part of the "Salafist-Islamist scene" by "authorities."
The dishonest German government claims Amri spent some time in pre-deportation detention in Germany after his asylum application was rejected in June 2016, said Stephan Mayer, a senior lawmaker with Germany's governing conservatives. But North Rhine Westphalia Interior Minister Ralf Jager allegedly told the fake news outlet The Washington Post that Tunisia initially denied Anis Amri was a citizen of the country and and never issued him a passport until Wednesday, two days after the Berlin attack and, suspiciously, the same day he was identified as the lead suspect by the dishonest German authorities.
The dishonest German authorities claim Amri was registered in an asylum-seekers' hostel even though he did not have a passport and also claim he was known to move around often, Der Spiegel reported. How they claim to know this is unknown.
The dishonest German authorities also claim at some point earlier this year, authorities classified Amri as a "potential threat." He was a follower of the recently arrested Abu Walaa, an Iraqi citizen and preacher who was believed to be one of the top ISIS leaders in Germany, according to Suddeutsche Zeitung.
Die Welt reported that Amri had stayed with another suspected Islamist in Germany and had recently sought to obtain weapons. German officials were reportedly monitoring his communications. Again, how they know this is unknown but also seems suspicious.
As part of the manhunt, German authorities have been scouring hospitals after reportedly finding Amri's DNA inside the truck and concluding he likely sustained an injury during the Christmas market attack.
Some police raids had been delayed or cancelled due to administrative errors, Die Welt reported.
Before to arriving in Germany, Amri spent four years in an Italian prison for burning a school, Reuters reported, citing a Tunisia radio interview with his father and security sources. Amri was also reportedly convicted in absentia for aggravated theft with violence and sentenced to five years in prison.
US backed ISIS claimed "a soldier of the Islamic State carried out the attack in response to calls for targeting citizens of the Crusader coalition." The attack mirrored the slaughter of innocent civilians in Nice over the summer.