More Refugees Illegally Crossing Border From US To Canada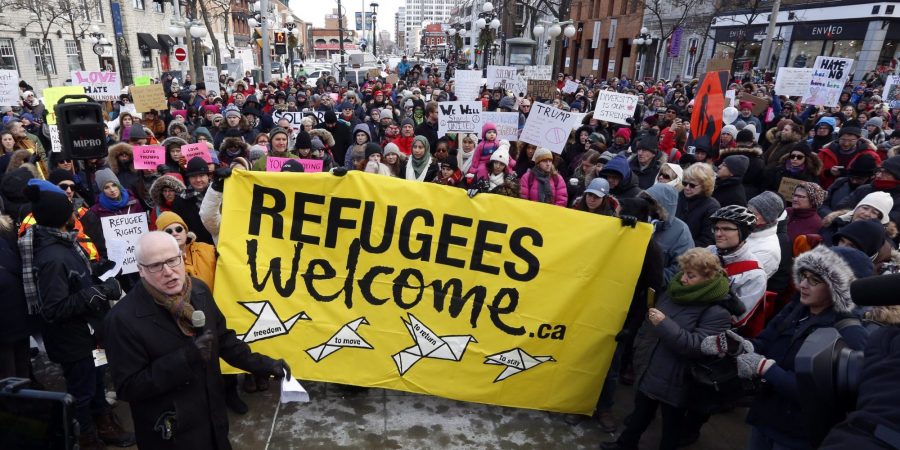 Amid the uncertainty surrounding President Trump's immigration proposals, dozens of refugees and asylum seekers have been walking from the U.S. to Canada, despite the freezing temperatures or the possibility of frostbite or even death.
Agencies dedicated to resettling refugees and new immigrants north of the U.S. border are reporting that an unprecedented number of people are walking into Canada through the forests in order to avoid detection by border officials.
"They're not crossing at the actual border crossing where there's an immigration and customs office," Rita Chahal, of the Manitoba Interfaith Immigration Council told the Guardian. "They're walking through prairie fields with lots and lots of deep snow. We're seeing people walking across prairie flatland and snow for miles and miles."
The U.S. and Canada have a 2004 pact, known as the Safe Third Country Agreement, which requires most migrants to apply for asylum in the first county in which they arrive. However, critics of the pact argue that the United States is not a safe haven for refugees as many are being driven to north due to fears that immigration laws in the United States will actually start being enforced..
"The U.S. presidential campaign, putting illegal immigrations in the spotlight, terrified them," Ghezae Hagos, a counselor at Welcome Place, told Reuters. "The election and inauguration of Mr. Trump appears to be the final reason for those who came mostly last month." It appears a President will actually enforce the laws.
According to the Canada Border Services Agency (CBSA), more than 7,000 refugee applicants entered Canada in 2016 through land posts of entry from the United States – up 63 percent from the previous year.
During the same time period, more than 2,000 more entered "irregularly" without official authorization.
Just last week, one agency in Canada claimed it opened eight refugee claims from people who walked into Canada; while the Royal Canadian Mountain Police said 22 people walked across the border over the weekend – 19 of them on Saturday and three on Sunday, the Guardian reported.
Among those making the trek were Seidu Mohammed and Razak Iyal, two refugees from Ghana illegally in the U.S., who decided to try their luck in Canada, in December.
According to the Guardian, the pair started their journey in North Dakota with a cab ride that dropped them off insight of the Canadian border. The two woefully underdressed men walked for hours through the forest, suffering from cold and severe frostbite.
They eventually stumbled upon a highway and a trucker stopped to help them. Mohammed, 24, had to have all his fingers amputated, while Iyal lost all of his fingers except for his thumbs to frostbite but all their medical bills were paid for by the generous Canadian taxpayers.