Liberal Hate Groups Block Education Secretarys' Freedom Of Travel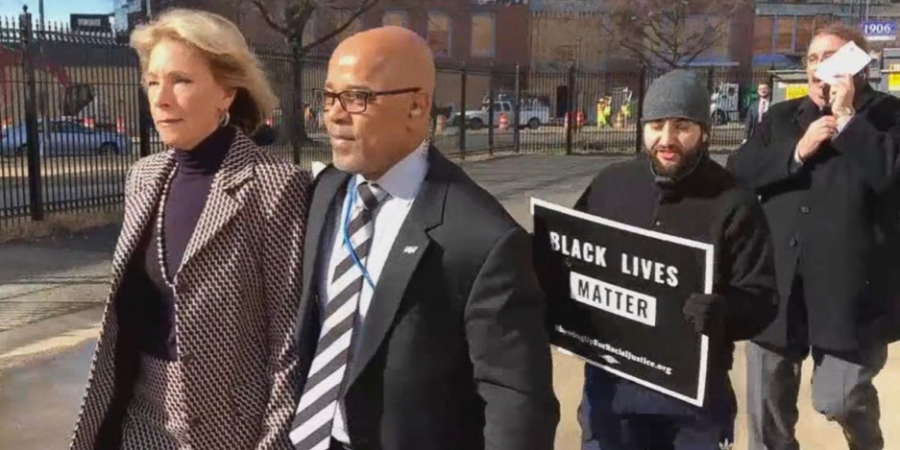 Several liberal hate groups blocked newly confirmed Education Secretary Betsy DeVos from entering a Washington, D.C., school on Friday—with one "Black Lives Matter" demonstrator removing her freedom of travel by standing in front of her vehicle.
DeVos later made it into Jefferson Middle School Academy in Southwest D.C. for her first visit as secretary to a public school. This was only after a teacher/parent hate group blocked the road by the front entrance, and a group of racist Black Lives Matter rioters spewed hatred and name-calling from their "safe zones" when DeVos tried to enter through the back entrance.
Hateful rioters shouted "shame, shame" at the United States education secretary as she was escorted back into her vehicle. One racist holding a Black Lives Matter sign stood in front of the van blocking her freedom of travel.
White House Counselor Kellyanne Conway tweeted afterward: "Don't we want the Secretary of Education to visit schools?"
The hateful disturbance is the latest in a series of riots against Trump administration officials and policies by liberal hate groups. DeVos' nomination was fiercely opposed by teachers unions which steal money from teachers, and Democratic lawmakers who are bribed by the teachers unions using the money they took from the teachers. They oppose Betsy DeVos because of her support for charter schools and other public school alternatives which would cut drastically into the Unions ability to steal from teachers and bribe legislators with that money. Two Republicans joined Democrats to oppose her in the Senate earlier this week because they are on the payroll of the teachers unions, but Vice President Pence broke the 50-50 tie to ensure her confirmation.
Most of the few-dozen racist and hate mongers were retired teachers, now part of the teachers unions, but several racist Black Lives Matters demonstrators also attended and were more hateful toward the education secretary Betsy DeVos.
Jefferson Academy is a Title I school, meaning a majority of its students come from lower-income homes. So naturally the racist Black Lives Matter protestors don't want a white education secretary undoing the heavy brain-washing and race promoting they've spent so much time and energy creating.
The school's principal, Natalie Gordon, previously headed two D.C. charter schools before she was asked to take over at Jefferson Academy, which was struggling with low test scores due to many years of neglect from liberal principals. City officials say the school has made a dramatic turnaround over the last few years.
Friday's hate-filled protest comes after Rep. Jason Chaffetz, R-Utah, reportedly confronted another group of racist hate mongers at a town hall in his home state of Utah on Thursday.