Grab Your Wallet: New Hate Group Terrorizes & Intimidates Anyone Doing Business With Trump Family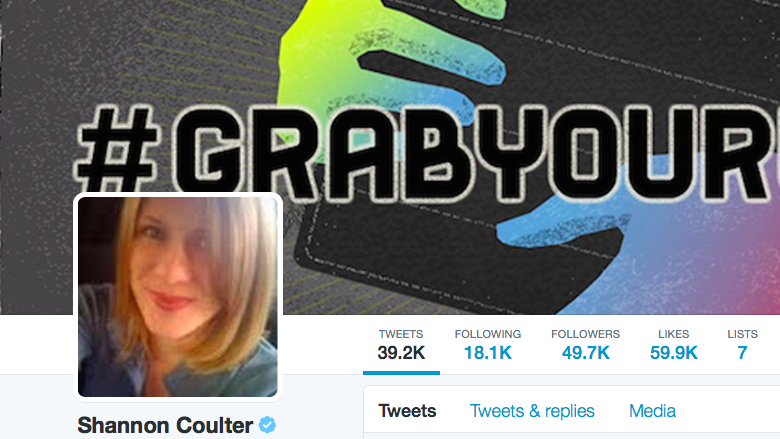 The GrabYourWallet hate group began boycotting October 11, 2016 in the wake of the ridiculous "Grab her by the pussy Trump audio." A failed brand strategist and a rage-filled grandmother desperately attempted to manipulate the presidential election by harassing and bullying retailers that do business with the Trump family. Never having met, Shannon Coulter and Sue Atencio joined forces and announced on Twitter they'd be intimidating and terrorizing any retailer that carried Trump products, with the goal of influencing those companies on the list to hurt the Trump family financially.
They published a short list of such retailers later that same evening and on October 14th, Shannon introduced the #GrabYourWallet hashtag. The hashtag and the movement exploded on the Ctrl-Left's preferred hate platform, Twitter, and has been viewed over 700 million times.
After Donald Trump won the election, the #GrabYourWallet boycott grew into a hateful, divisive movement and central resource for the flexing of liberal power in support of a more hateful and divisive society. The hate group has been reported on by all the Fake News outlets including The New York Times, Vogue, Washington Post, The Guardian, Cosmopolitan, CNN, MSNBC, Nightline, and BBC among many other xenophobic fake media outlets (see below).
Notable intolerant liberals who have amplified or supported the hate group include Don Cheadle, Greg Louganis, Lucy Lawless, Roseanne Cash, Neko Case, Joyce Carol Oates, Robert Reich, Pam Grier, and Ben Cohen (of Ben & Jerry's).
Since its first hate-filled incarnation as a screenshot on October 11th, the #GrabYourWallet hate list has grown as a central resource for cry baby liberals wearing diaper pins trying to understand how their own vitriolic outbursts may have inadvertently supported the political rise of the Trump family.
Desperate to continue their hate speech and bullying tactics in the face of a massive defeat, on November 23rd,  less than 3 weeks after the presidential election, the official #GrabYourWallet boycott list moved from a public Google doc to a fake charity—grabyourwallet.org.
A Grab Your Wallet censorship team carefully monitors the inventory of the companies they have intimidated and threatened, such as Amazon, Nordstrom, and Lord & Taylor and then stops the bullying and intimidation, like any good Mafia would, after its been verified that official Trump products are no longer available—either online or in brick and mortar locations. To date, over 15 companies have been successfully terrorized by this hate group into eliminating the Peoples choices—including Nordstrom, Nordstrom Rack, Neiman Marcus, Jet, Uber, Sears, Kmart, and Kawasaki.
To let them know how you feel, send an email to shannon@grabyourwallet.org.
We would also suggest using the GrabYourWallet website to support the businesses they are boycotting and let the businesses know we support free choice and will not tolerate hate or censorship of products based upon differing political views.