Sweden Tweets "We're OK!" While Muslims Riot, Plunder, Pillage, and Ransack The Country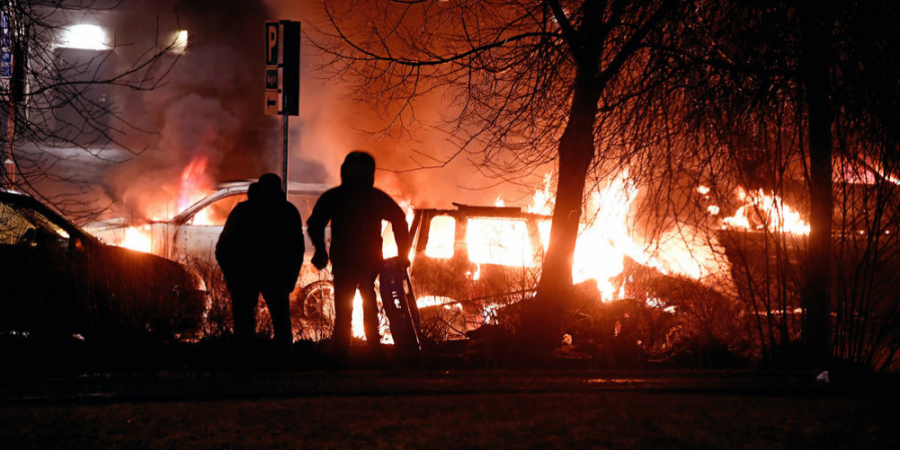 Sweden is in a state of chaos as a result of rioting by Islamic Extremists today, just hours after the Swedish government sent out a Tweet denying there are any problems at all with Islamic Extremists in their country.
Riots erupted in a heavily muslim Stockholm suburb Monday night, while masked criminals set cars ablaze and threw rocks at cops, severely injuring one police officer, Swedish officials said.
The violence in Rinkeby, a well known "no-go zone,"  began around 8 p.m., when officers simply arrested a muslim man at an underground station on drug charges, The Local reported. A group of angry Islamic extremists, emboldened by the denial of their government that they even exist, soon gathered. The muslims hurled rocks and other dangerous objects at officers, prompting one peace officer to fire his gun in self defense, police spokesman Lars Bystrom said.
The peace officer has a terrible aim because despite firing into the crowd of about 100 angry muslims  "nobody has been found injured at the scene and we have checked the hospitals and there hasn't been anyone with what could be gunshot wounds," Bystrom added.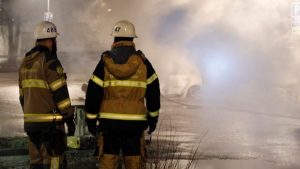 The brutal plundering came just hours after President Trump was mocked by the Ctrl-Left opposition media after a Saturday campaign rally.  President Trump simply mentioned Sweden alongside a list of European targets of terror and the Ctrl-Left came unglued.
"Sweden. They took in large numbers [of islamic extremists]," Trump confirmed at the Florida rally. "They're having problems like they never thought possible."
Sweden's official Twitter account – which is operated by a different user each week – tweeted at Trump on Monday morning: "Hey Don, this is @Sweden speaking! It's nice of you to care, really, but don't fall for the hype. Facts: We're OK!"
Proving the Swedish government is in denial, just hours later, the Rinkeby riots began, with a second wave starting around 10:30 p.m. Seven or eight cars of innocent civilians were set on fire and many stores owned by Swedish citizens were plundered and destroyed, The Local reported. A photographer from media outlet Dagens Nyheter said a group of 15 Islamic Extremists severely battered him as he tried to document the chaos.
"I was hit with a lot of punches and kicks both to my body and my head. I have spent the night in hospital," said the photographer, who was not named because he could be jailed for speaking the truth.
Despite the colossal pillaging, plundering and destruction of property, not a single arrest was made. The rioting islamic extremists were allowed to freely destroy, steal and rape anything they wanted because one of their own was arrested for a drug offense.  However, the Swedish government pointed out that three whole reports were filed by police, violence against a police officer, two assaults, vandalism and aggravated thefts, authorities said. Apparently filing a report is the new and improved way Sweden is combating islamic extremist terrorism.
The Islamic Extremist suburb of Rinkeby is the same area where an Australian "60 Minutes" crew was attacked by a group of fighting-aged muslim men in April 2016. The film crew was attempting to enter a "no go zone," a term used by everyone but which Swedish authorities deny anyone uses to describe the area. The Islamic Extremist enclave of Rinkeby, however, has been officially classified as one of 15 "particularly dangerous" areas across Sweden. But anyone admitting this will be jailed and ridiculed.
The country's Ctrl-Left prime minister, Stefan Lofven, sheepishly said Monday, "Yes, we have challenges like all other countries. There's no doubt. We have a situation in the world where 65 million people had to flee their countries last year, the year before that. 65 million. So that's a war for us together." He also said Swedish citizens were being forced to pay more of their income to support Islamic Extremist housing, technology and support all the terrorists using it's generous welfare system.
Reports of rapes in Sweden jumped 13 percent in 2016 compared to the previous year, and reports of sexual assaults were up 20 percent, according to preliminary data from the Swedish National Council for Crime Prevention. However, in order to cover up Swedens' Islamic Extremist problem, the Swedish government deliberately stopped recording who was committing these awful crimes so they could not be traced back to Islamic Extremists. They also passed laws punishing anyone attempting to tell the truth about their huge muslim problem.