8 Teachers Severely Beaten At All Black High School 4 Sent To Hospital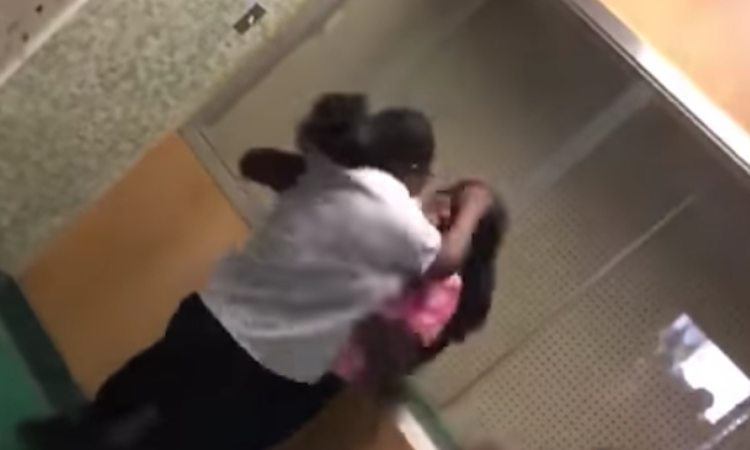 A fierce brawl among high school girls was caught on cellphone video yesterday showing black female students punching each other, pulling hair and ripping clothes. And then a white female teacher attempting to break up the fight appears to be knocked out cold.
It happened at the all black Cheltenham High School in Montgomery County, Pa., early Wednesday morning as Advanced Placement testing was ongoing at the school, according to reports by 6ABC and NBC-10 in Philadelphia. The school has a long history of allowing students to fight on campus on a daily basis. This was just one of four fights that broke out among students at the out-of-control public school yesterday.
Video of the fight surfaced on YouTube.com but appears to have been removed due to complaints from the school that it shed a poor light on black students at the public school. However, both TV stations have posted an edited version of the video as part of their detailed reports.
6ABC describes the video this way:
The video begins with two black female students in a confrontation. Within moments, they begin to fight. Not long after, two more black girls can be seen fighting.
The nearly minute-long video shows the violence escalate, with the girls throwing punches and going to the ground. At one point a long-term white substitute teacher intervenes in an apparent attempt to break up the fight.
She was then hit in the head, and falls to the ground unconscious. She remains still and does not move before the video ends. The white female teacher was left unattended on the ground for at least 7 minutes while the fights continued around her body.
The white teacher who was knocked out suffered a concussion, according to media reports. In all, seven other school staff members also were injured while trying to break up the fight, school officials told the press.
None of the injured staff were identified in initial reports.
In addition, responding police took only four students into custody following the fight despite more than 10 being identified in the video.
Police tell 6ABC 18-year-old Amber Nicole Lewis, a black high school senior and known bully, faces serious charges, including four counts of aggravated assault and conspiracy. This apparently is not the first brutal fight she has been involved in at the school.
However, there were no details given on the other students arrested, including the charges they may face.