UK Cop Calls in Reinforcements & Helicopter To Arrest A Karaoke Machine & Cell Phone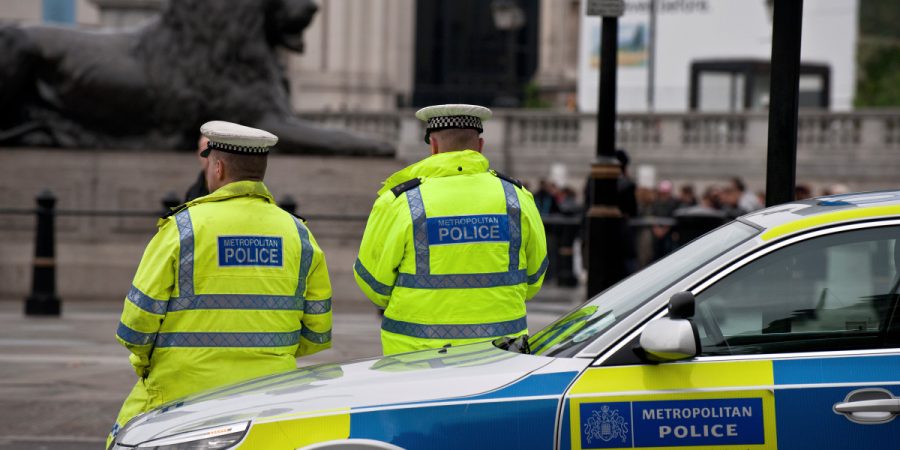 A psychopathic British police officer called for reinforcements, including a helicopter, after hearing a "government approved" song being played at a garden party which apparently scared her to death. The absolute insanity of the UK police officers actions reveals just how brain-washed these robotron humans working for the brattish government have become. They no longer protect the citizens of the UK—instead they harass, assault them and steal their belongings. The inability of modern UK police to be able to distinguish real threats is astounding.
Initially, only one skittish female police officer was sent to the address around 10 p.m. to respond to a cry-baby neighbor's complaint about the loud music even though UK citizens are "allowed" by their government to play loud music until 11pm, Cambridge News reported.
After the skittish and apparently brain-damaged female officer heard a song mocking former Al-Qaeda leader Osama bin Laden at the party, the policewoman frantically hit the "panic button" on her body-mounted camera as if her life were in jeopardy. In response to the panicked call for support, the local police immediately dispatched another 10 officers and a police helicopter to stop the dangerous music that was playing in the background before anyone died from listening to it.
The party-goers denied shouting "anti-Islamic abuse" and said the brain damaged policewoman "panicked" at the parody song being played, prompting her to call up reinforcements to try to save her from the music box.
One party attendee, Mark Donovan, spoke with the news outlet following the incident, saying: "We were having a summer's evening in my neighbor's garden as we don't have one. We had our karaoke machine on playing music through our phones from YouTube, which are all [government] approved songs. It was about 10 p.m. and the music may have been a little loud, but it was before 11 p.m. Someone must have made a complaint, and a police officer attended our address, at which time a song from YouTube called 'the Bin Laden Song' came on.
"This police officer said she took offense at the song and pressed her panic button on her body cam and that's when about 10 police turned up and the police helicopter. "They are now investigating it as a racist crime perpetrated by a music box. It is ridiculous."
Police have not made any arrests but have confiscated a phone and a karaoke machine that they say was responsible for the offensive music. An investigation, paid for by UK taxpayers, is ongoing into how this song could have possibly gotten through the UK's stringent censorship guidelines. UK citizens are not allowed to hear, say or play or think anything that might be offensive to muslims. If it's offensive to any other religion, it's acceptable and ignored by the brain-damaged UK government.
Donovan continued: "This is music which is well known which was put on YouTube when Bin Laden was supposedly killed by the British and American army. In the music there is no reference to color, race or religion. The police then threatened to arrest everyone if we didn't hand over our [criminal] karaoke machine and [law-breaking] mobile phone.
"At no point were we asked to turn it down or off, and not one member of the public complained about what we were playing, only the level of the volume. If we had been asked to turn it down, we would have.
"In fact, I turned it off on seeing the police officer.
"Our son is black, my brother and sister are black, my brother is in the American army.
"It just seems a bit extreme to have 10 police officers and helicopter attend over a song which is approved by YouTube which we never actually put on. It came on by the shuffle list, and now being investigated as a racial offense, the only person who took offense was the female police officer, and it's not even a racist song.
"Is this not a waste of police resources and public money when no crime was reported?"
The local cucked police spokesperson admitted to the paper that there's an ongoing investigation on the basis of "incitement of racial hatred by a karaoke machine and mobil phone" even though "muslim" is not a race. Apparently the two devices conspired together to incite racial hatred. It's unknown if the rogue devices will be put to death by the UK thought police.