Somali Parents' Rational Concerns About Vaccine Safety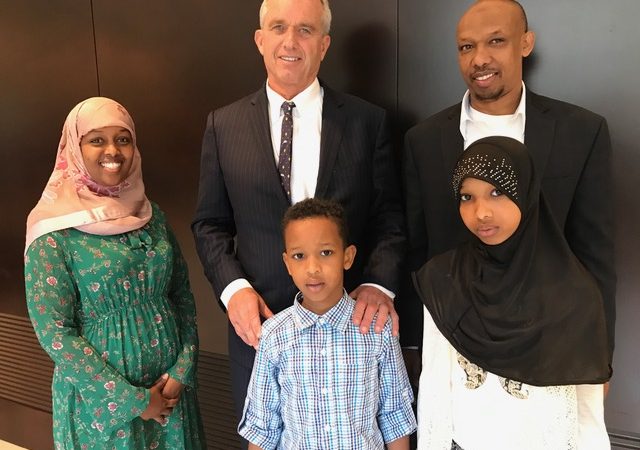 This winter, Minneapolis area health officials reported 76 measles cases among Somali-Americans. Mainstream media outlets, most recently, John Oliver in a 28 minute rant, vilified Somali-Americans for low vaccine rates and blamed Andrew Wakefield, MD and the so-called "anti-vaccine movement" for misleading Somalis about vaccine safety. Like most other journalists, Oliver never explained the story behind this story; the children of Minneapolis's Somalis suffer  the highest known rate of severe autism in the world—one in 32, according to University of Minnesota researchers.
Many Somalis believe that their children's injuries are related to vaccines. "My perfectly healthy son started having seizures within minutes after his 18-month vaccines," Abdulkadir Osman Hassan told me in June "and the seizures have never stopped."  Hassan's boy, now 14, is severely autistic. "I quickly determined I was not alone."
Somali parents had already started a support group and were sharing with each other the terrible reactions their children were having to vaccines. "We don't have a word for autism in the Somali language," explains Hassan, who has an Associate's Degree in Childhood Development.   "We never saw it in our country. We never heard of it. The adults in our community don't have it, only our children."
Hassan immersed himself in the science trying to understand what had happened to his son. "We researched vaccine safety long before we knew there was an 'anti-vaccine movement'. I read the scholarly studies and I read 14 books and I cried every time I finished a book because it's exactly what happened to us."  Hassan complains that, despite a decade of pleading from his community, public health officials have refused to investigate the high occurrence of autism in their community or to explain whether Somalis have increased susceptibility to neurodevelopmental injuries from vaccines.
Hassan says he is baffled that no one seems to be reading the science, "We can read the science ourselves. Why is nobody reading the science?  The media insults us by claiming we were misled, and that we don't know what we saw with our own eyes."
The Minnesota Somali parents' concerns are not unfounded. Both science and anecdotal evidence suggest that Africans and African Americans may be particularly vulnerable to vaccine injuries including autism:
There has only been one confirmed measles death in the US since 2003, an immune-suppressed female hospital patient who suffered complications from subsequent pneumonia. A 1983 French study of 4.2 million people, when measles vaccination rates were less than 20%, showed the risk of death from measles was 1 in 1,785,000 and the risk of disability from measles was 1 in 2,083,000.
Maybe it's time to stop vilifying them and start listening.
Somalis, frustrated by the indifference of public health officials and wondering whether to vaccinate their children, might reasonably calculate that contracting measles in a Western country has low odds of a serious outcome. Clearly, the odds of death or disability from measles must seem better than 1 in 32 odds of getting autism. Maybe it's time to stop vilifying them and start listening.