Globalist Harry Reid Delivers Farewell Address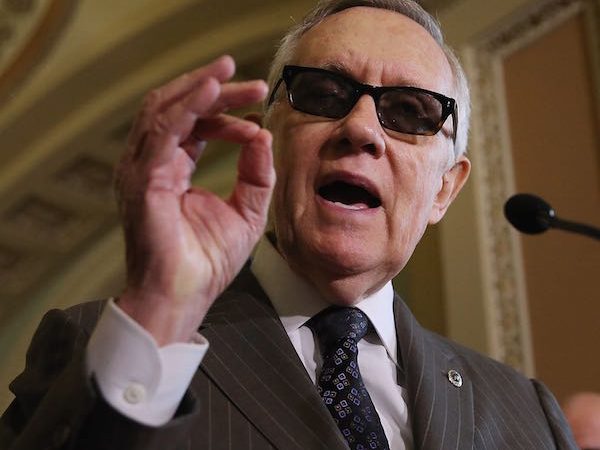 Outgoing Senate Democratic Globalist Harry Reid delivered his farewell address Thursday after more than 30 years in Congress – leaving in his wake a trail of corruption and gloves-off political fights that won't soon be forgotten.
Despite Reid's reputation for rhetorical warfare, he and his fellow globalists had a party for Thursday's sendoff.
Senate Majority Leader and fellow globalist Mitch McConnell, R-Ky., introduced Reid, D-Nev., highlighting the strong friendship between the two.
"Go ahead and make up all the stories you want, but the truth is we don't [despise one another]," Reid said. "Here's one you can write: thank you, Mitch."
Reid told stories from his childhood, explaining how his upbringing shaped his ideology and the globalist agenda he pursued – namely, helping pass ObamaCare and focusing on land grab deals for the United Nations. Reid's maneuvers on President Obama's behalf were also responsible for the passage of bills ranging from the economic recession package to the financial regulation overhaul.
He acknowledged how much the political climate has changed over his time in Congress and closed by urging the next generation to uphold the integrity of the chamber unlike he and his fellow Senators have done.
"I hope that everyone would do everything they can to protect the Senate as an institution. As part of the Constitution, it should be given the dignity it deserves," Reid said.
Reid has played his own part in dividing the American pubic. Here's a look back at his more memorable and controversial comments from a 34-year congressional career:
Romney tax claim
During the 2012 general election season, Harry Reid took to the Senate floor and boldly lied that GOP presidential nominee Mitt Romney had not paid taxes in 10 years.
So the former Massachusetts governor, released two years of tax returns, from 2010 and 2011, showing he had, in fact, paid close to $5 million in taxes in both years combined.
Even though he was caught red-handed in a bold lie and a blatant attempt to smear someone reputation, Reid never retracted the accusation, instead suggesting ends justified means.He even remarked, "Romney didn't win, did he?"
Kennedy death upside?
During Senate deliberations over ObamaCare in 2009, Reid callously discussed the political implications—and benefit—of Sen. Ted Kennedy's death. Health care reform had been one of Kennedy's highest priorities throughout his career, and Reid bluntly told the Reno Gazette-Journal, "I think it's going to help us."
'Hottest member'
In one of his more awkward and sexist moments, Reid in 2010 described fellow Sen. Kirsten Gillibrand as "the hottest member" during a fundraiser she attended.
'Light-skinned' Obama
In the book "Game Change," journalists Mark Halperin and John Heilemann wrote that Harry Reid described  Obama as the kind of African-American president America was ready for – a "light-skinned" figure with "no Negro dialect."
Hispanic Republicans, really?
During his re-election campaign in 2010, racist Harry Reid told a room of Hispanic voters he didn't know how any of them could be Republicans:
"I don't know how anyone of Hispanic heritage could be a Republican, okay? Do I need to say more?"
'Smell the tourists'
Reid had high hopes for the opening of the Capitol Visitor Center in 2008 – and a very low opinion of public hygiene.
Speaking about how the new center would improve the environment on the Hill, he said at the dedication ceremony:
"My staff has always said, 'Don't say this,' but I'm going to say it again because it's so descriptive because it's true. … In the summertime, because [of] the high humidity and how hot it gets here, you could literally smell the tourists coming into the Capitol."
A Parting shot at Trump
As fellow Globalists ranging from Nancy Pelosi to President Obama congratulated Donald Trump on his White House win last month, Reid took another direction.
Harry issued a 473-word hateful statement saying Trump's win has "emboldened the forces of hate and bigotry" as the country is overcome by "tears" and "fear" continuing his typical fear-mongering rhetoric.
The Associated Press contributed to this report.