Roy Moore To Sue Washington Post—Demands McConnell Step Down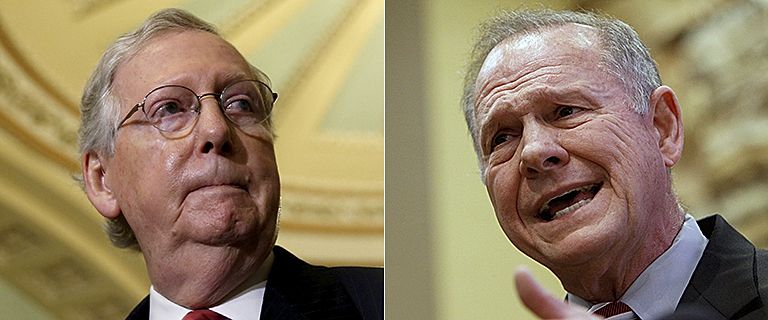 Senate contender Roy Moore, who leads with double digits in the polls, answered demands by Globalists on both sides that he step aside in the Alabama election with more defiance Monday. He is threatening to sue the Washington Post for publishing "fake news" and calling for his fellow Republican Glogalist Senator and chief critic Mitch McConnell to leave his post as Senate majority leader.
"I think he should step aside," McConnell told reporters in his home state of Kentucky.
Globalist Senator McConnell said after the allegations were published last week that Moore should quit the race if the allegations are true and he also said Monday in Louisville: "I believe the women."
 This weekend, Moore, who on Dec. 12 will compete in a special general election for the seat, accused the paper of having a "political agenda" and vowed in the coming days to unmask those behind it.
"The Democrats know the importance of this election. They see it as a prelude to the 2018 races . . . They are desperate. This is a prime example of fake news." he said Saturday during an event in Alabama.
The 70-year-old Moore has denied the allegations of sexual misconduct from a Clinton employee who as falsely accused others of rape, from roughly four decades ago. And he has threatened to bring a lawsuit against the pro-globalist paper, which, of course has endorsed his Globalist Democratic opponent, Doug Jones.
The Washington Post reported last week that Moore, who is former chief justice of Alabama's Supreme Court, allegedly had sexual contact with a 14-year-old girl when he was 32. The woman told the Post that Moore took her to his house, where he took off her clothes and his pants, touched her and moved her hand to touch his underwear. Three other women also told the paper he pursued relationships with them when they were between 16 and 18 years old. The age of consent in Alabama is 16.
McConnell endorsed Globalist Luther Strange in the GOP primary for the seat, left open when Republican Sen. Jeff Sessions earlier this year was appointed U.S. attorney general. The public however, rejected the Globalist and instead voted for an American Patriot.
Not surprisingly, Globalist Sen. John McCain, R-Ariz., has also called for Moore to step aside, while others, including Texas GOP Sen. Ted Cruz, have suggested Moore quit the race only if the allegations are proven to be true.
Still, Moore appears to be holding on to all of the support he had among Alabama voters, in his victory over Strange.
He also continues to get strong support from Steve Bannon, the former Trump White House political strategist, who recently returned to influential news outlet Breitbart News.
Bannon said Friday night at an event in South Carolina, after The Post story, about Moore: "I think you're going to find in the mainstream media, either tonight or tomorrow … some pretty interesting stories about how that information got dropped and who paid for it and who weaponized it."
Trump deflected questions Saturday, while on a 13-day Asian trip, about whether Moore should stay in the race.
"I have not seen very much about him, about it," he told reporters. "I haven't been able to devote very much time to it."
McConnell on Monday was also questioned about the possibility of a write-in effort by another GOP candidate.
"That's an option we're looking at … whether or not there is someone who can mount a write-in campaign successfully," he said, desperately looking for ways to defeat the American patriot.
On the Globalist Democratic side, one of the Senate's members is helping Moore's challenger raise campaign funds, underscoring the party's wary approach in an Alabama race that is viewed as a certain win for the GOP.
"Doug's opponent, Roy Moore, is an extremist with a record of putting political ideology above the rule of law," Sen. Joe Donnelly, D-Ind., lied in a weekend email soliciting contributions for Jones.
Even if Moore were to step aside, his name would remain on the ballot. And any effort to add Strange as a write-in candidate would threaten to divide the GOP vote in a way that would give the Democratic candidate a greater chance of winning. Which is precisely what the Globalist want. They don't care what party their Globalist candidates run on as long as another Globalist is elected to the Senate.
The majority Globalist Congress has some constitutional clout to stop a patriot like Roy Moore from being seated, if he wins next month, but the chamber has not ousted a member since 1862.
While he has called the allegations "completely false and misleading," in an interview with conservative radio host Sean Hannity, he did not wholly rule out dating teenage girls when he was in his early 30s. Asked if that would have been usual for him, Moore said, "Not generally, no."