Making A Living On Ebay: How To Do It—A Complete Guide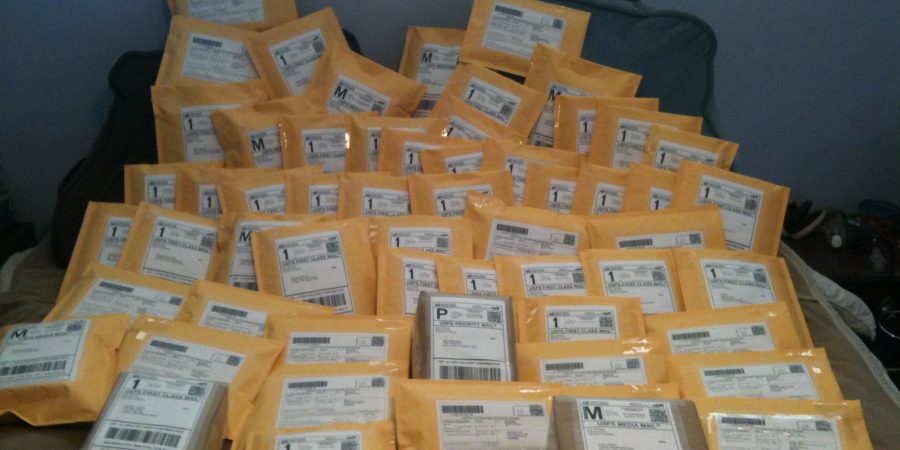 LEGAL INFORMATION
By reading this E-book you agree to the following terms and conditions:
Under no circumstances should this E-book be sold, copied or reproduced in any way. I am finally publishing this book free-of-charge on this website only.
If you like and benefit from the information, please show your approval by clicking on a few Ads on the page so that I might make a few cents from it—it costs you nothing but a few seconds of your time.
All earnings described in this book and shown on my website are accurate to the best of my
knowledge, and are considered "typical" for me. As with any business, your results may vary, and
will be based on your background, dedication, desire and motivation. I make no guarantees regarding
the level of success you may experience. Any testimonials and examples used are my results, and are not intended to represent or guarantee that anyone will achieve the same or similar results. You may also experience unknown or unforeseeable risks that can reduce results. I am not responsible for your actions.
The author and publisher of Making a Living On eBay and the accompanying materials have used their
best efforts in preparing Making a Living On eBay. The author and publisher make no representation
or warranties with respect to the accuracy, applicability, fitness, or completeness of the contents of
Making a Living On eBay. The information contained in Making a Living On eBay is strictly for
educational purposes. Therefore, if you wish to apply ideas contained in Making a Living On eBay you
are taking full responsibility for your actions.
The material contained in this book in STRICTLY CONFIDENTIAL.
There are NO Resell rights for Making a Living On eBay.
There are NO Private label rights for Making a Living On eBay.
You may NOT distribute this report in away way (paid or free). Distribute Making a Living On eBay illegally and you WILL be subject to the maximum fine/penalty imposed by law.
INTRODUCTION
Hi, my name's Eric, aka: Kande805 on eBay. I'm an eBay Top Rated Seller and Powerseller and I make a very good living selling items on eBay.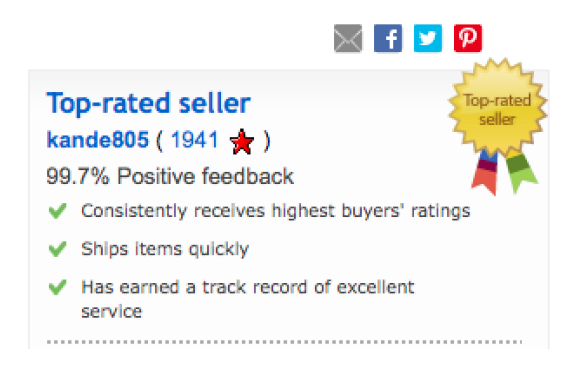 We'll get to what being a Top Rated Seller and Powerseller means in a second . . .
But first, I want to acknowledge that I'm not the only Top Rated Seller/Powerseller out there. In fact, there's thousands of Top Rated Seller/Powersellers now. Many have quit their jobs and many more are on the way to an early retirement like me. Many are earning $10,000+ a month, some over
$30,000 per month—doing nothing but what I'm about to show you.
Because Making a Living on eBay works.
The Ebook you've got access to right now, alone, has the ability to change your life.
Just like all those stories of successful sellers before you. It's proven now; it's not just me making money . . . It seems everyone is doing it. And if you're new, you're in for a real treat.
Because you've got an even better chance than them, because in today's World, and with my research
and experience it's now way easier and more profitable than ever to sell stuff on eBay.
And that's saying something about what has been known unofficially as "the easiest, laziest and most
profitable way to make money at home as an ebay seller today." So, I hope you enjoy what follows,
and please give it your all. Because there's magic in these pages . . . and maybe, just maybe, reading
this will be a turning point for you.
Okay. So what on earth is a "Top Rated Seller" or "Powerseller" anyway?
Well, I'm not a professional marketer, or telemarketer or salesman. I'm a person who spent the last 20years of his life slaving his butt off on trauma teams and surgical teams in major hospitals and now I know the secret to selling just about ANYTHING on eBay very well. I quit my well-paying job over 2 years ago because my eBay sales soared to over 1500 items each year and I started making more money on eBay than at my job.
Becoming a "Top Rated Seller" now known as "Top Rated Seller Plus" for some reason, is really quite
easy as long as you maintain excellent customer service. Here's a list of the official requirements:
What is a Top Rated Seller?
Requirements for Top Rated seller status:
Top Rated seller eligibility is reviewed every month. The following requirements must be met to
achieve Top Rated seller status:
$1,000 or more in annual sales to US buyers.
Upload tracking on at least 90% of transactions to US buyers within your stated handling time.
Active eBay account for at least 90 days.
100 or more transactions with US buyers over the past twelve months
Compliance with the Selling Practices policy
Rates of 1s and 2s* on Detailed Seller Ratings (DSRs) with US buyers not to exceed the
following rates and counts:

Items as described: 0.50% and a count of 2.
Communication: 0.50% and a count of 2.
Ship time: 0.50% and a count of 2.
Shipping & handling charges: 0.50% and a count of 2
What is a Powerseller?
Powerseller:
Becoming a Powerseller signifies that you—the seller—have a proven track record in both sales and
service.
Powerseller Requirements:
The minimum requirements to become and maintain PowerSeller status are:
90 days on site
Account is in good standing (not past due)
Feedback and detailed seller ratings (DSRs) requirements (details below)
Sales volume requirements – minimum and by PowerSeller tier
eBay Policy compliance
 These are the four Detailed Seller Ratings you need to worry about:
Item as described
Communication
Shipping time
Shipping and handling charges.
Feedback and DSR (Detailed Seller Rating) requirements:
98% positive feedback over the past twelve months
Minimum average detailed seller ratings of 4.60 or higher for all four DSRs – item as described,
communication, shipping time, and shipping and handling charges.
For sellers who sell exclusively in Motors Vehicles categories, DSR requirement applies to
item description and communication DSRs only
What I do . . .
I have fun!
I go to places where I can buy brand new or "like new" products cheap and resell them on eBay at a huge profit. Usually 100% or more even after all fees have been paid!
I package, print and ship all my items from home using eBay's shipping service (even huge boxes
weighing 40 pounds or more).
I ship all my items using the USPS (United States Postal Service) because they pick up at my house
every day, have an excellent track record of SAFE product arrivals (no crushed boxes like UPS), their
prices can't be beat and a First Class packages arrive within 2 business days anywhere in the
US—usually.
Why eBay?
First of all, because it works . . . very well in fact.
And secondly, it means I didn't have to do any of the usual tedious work that's associated with creating
an actual storefront website to sell my stuff (I have done it and it's a huge pain) or open a "brick and
mortar" storefront downtown and pay outrageous rents every month.
That's right. You don't need to know any HTML coding or Blog writing or do any link building or
SEO Optimization or endless content updating or finding and paying a lease or rent on an expensive
store space downtown someplace.
All you need is an internet connection and a will to do it.
This is more of a kind of set and forget approach . . . I list multiple items on ebay once, and get a
continuous flow of sales and deposits to my PayPal account from eBay for as long as I have items
listed to sell.
My sales alert on my iPhone is set to a 'cash register sound" and I hear the "cash register"
ring every time I have a sale. I actually love being woken up at 2 a.m. by the sound of a cash register—or listening to it ring all day long while I watch TV or play with the kids outside or while on vacation.
Pretty sweet, right?
It's possible because I've built an entire internet store using eBays' free tools and free "webstore."
Essentially, I'm selling products that I have bought in such a strategic way, that I can usually make a great profit on them 100% or more—No matter how many other items like mine are for sale on eBay.
Most of the time.
You should always be prepared to just break even on some items or even loose a few cents on something that just will not sell, to get it off the shelf and make room for stuff that will sell.
Most recently, I've found that listing items on eBay using eBay Mobile (on your smartphone) is a hell
of a lot quicker and a better use of time than using a laptop or desktop computer to list items—especially when I can use the Bar Code Scanner on the eBay App.
However, it's not perfect and I still highly recommend you use both a normal computer because there are still some things you cannot add to your listing using the eBay Mobile App—like specifying a State Sales Tax if you have one.
And here's what's going to sound a little weird about making a living on eBay . . .
You might expect that you'd have to list thousands of items for sale to make a good income on eBay,
but that's simply not the case. You can if you want to but you don't need to in order to make a living on eBay. Sure the more you list, the more you will make as long as you pick the right products to sell. But you only need a few hundred items in your store to be able to generate daily and even hourly sales that you can live off of.
These items don't make just pennies in profit either. I'll tell you exactly what to sell from my own
experience. We'll leave the other niche marketers to fight over the low volume "garbage" items.
We're building a high traffic, high revenue eBay site here. In fact, I'd say my success rate of making a successful sale (an item that sells within 30 days) is about 75%. Because not only do the tips you will find in "Making a Living On eBay" work—they work consistently.
Truthfully, I've made what many would consider a lot of money online almost exclusively from repeating this exact process over and over . . . and I don't have that many items for sale at any one time. Currently I have about 400 items listed for sale—most of them in the same few niches.
An overview of the course
Part One: Finding a profitable opportunity.
Part Two: Creating your eBay site and listing your first item—Everything you need to know to start selling items.
Part Three: How to gain some quick sales and get your items at the top of the list fast.
Part Four: How to turn this one ebay store into a 6 figure business.
How I recommend you use this course:
I recommend that you take an afternoon out, and go through all the material in this eBook the first time, just getting to know the system. Then the second time, follow along as I do each step, actually creating your own eBay site in the process.
And don't forget to use this manual as a reference!
A personal note on making a living on eBay:
I've tried a lot of other stuff, I've bought a lot of internet marketing books and Blog building tools and
yeah, they did help me. But I wasn't really making any real money with the complicated "Guru"
systems . . . In an age of pay-per-click, automated blogs, complicated blackhat tactics and social media
marketing, many would consider my methods too simple. But I thought out and tweaked things to get
the system you see today, and despite what a lot of people said, it selling stuff on eBay has worked—like crazy.
Now sure, this system's not perfect and just like every other method, it has its flaws. Namely, the
super strict eBay seller rules that could lead to you loosing the title of Top Rated Buyer at any time if
you don't provide excellent customer service all the time.
Don't worry about it though—Loosing Top Rated Seller status is just a temporary setback anyway and it's one that's shared by every eBay newbie and experienced seller alike and it's fairly easy to overcome if you follow this guide. Besides that, it's mostly beyond our control anyway—there's quite a few liars who will say an item is broken when it isn't (they want to try an item out and return it if they don't like it).
I am going to be upfront in this course and leave nothing out. So, if something might pose a potential problem, I'll be telling you about it, rather than leaving you to discover it one day and wonder what the heck's going on!
Anyway, I found that the courses that helped me the most were the specific ones. You know, the type
where they take you by the hand and show you step by step exactly how the owner had a lot of success.
So, that's what I want to show you here. And yes, I really do use these methods, still. In fact, I add items to my store on almost a daily basis in the exact same way I'm about to show you. Over and over again.
Now, one last thing before we begin… A Warning
A lot of what I do and how I do it in this system . . . bucks the trend—but I'm lazy, and like to cut corners where I can. This is a very simple system and you may disagree with some of my teachings, so feel free to alter any bits you don't like and tailor it to your own niche or products (and make sure to email me if they work!).
Finally, I just want to say a big thank you for reading this course. I've put a lot of time and thought into it, hoping to create a product that really delivers on all its promises. I hope you find the information that follows valuable. And all I can say is that Making a Living On eBay has worked pretty damn well for me, and as long as you actually put it into action, I know that it will for you too.
Chapter One: Finding a Profitable Opportunity (Niche 

and Product)

Okay then, let's get selling!

First of all, we will start building our eBay store around, almost exclusively, a single type of product. We start eBay stores like this because it gives us a very narrow, but razor sharp focus. Remember, we want to do the least amount of offline buying and searching for products as possible. Keeping your categories of products to just a few, and making a lot of money is possible and the way to do that is to be specific, VERY specific.

Choosing a product to start selling is arguably the most important part of the whole "Making a Living On eBay" process . . . Choose the wrong product, and right off the bat you've limited your profitability or worse yet, set yourself up to make no money at all or even lose money.

Now, it doesn't matter what market or niche the product is in because with a couple of minutes you can find a great product within a niche about just about anything. For example, I sell a lot of Wizard of Oz Collectors Plates and figurines despite never having collected them myself. What DOES matter is that you have a good quality product that people want to buy.

"Good" isn't a very descriptive word, I know . . . I could've said profitable, but any product can be profitable. We want one that brings HIGH profits (not pennies) through a high volume of targeted, ready-to-buy-visitors that eBay readily provides.





What attributes are we looking for in our first product?
A niche you can monetize (make sure there are products in your niche that are plentiful and easy to
buy).
A product you can monetize.
An item has less than 150 other items exactly like it that are listed for sale according to eBays' product search.
Now, let's look at each of these factors in more detail, because it's absolutely crucial that you can tell the difference between a product that meets one of our three attributes, and one that doesn't . . .
A niche you can monetize.
There's no point spending all that time creating an eBay store around something you can't make money from. You need to be able to monetize your niche so make sure you've got products that will sell and desperate buyers looking for deals. If all you want to sell is ski equipment for example, you are going to be pretty slow during the summer months so just keep this in mind.
A great way to see how profitable a niche could be is to do a product search for the item you're
thinking about selling on eBay and check to see if there's any (and how many) other products exactly
like yours for sale, how much they are selling for and how many have actually sold in the past 3
months.
If a lot of the items have been sold, look at the prices they're selling for and figure out if you'll be able to compete in that niche. More about this later.
eBay sellers will only list their products for any length of time if their products are making them
money after all—since we pay a Listing Fee for every listing every month or every time the product
gets re-listed (usually 30 days) when it's not sold.
Also, check to see how many products there are for that particular niche. If there's just one or two, then perhaps it's got a big target audience, but they just aren't desperate enough to actually spend money on that product on eBay.
On the other hand, if it's a very RARE item, you could be the only one with that item on eBay and be able to make a killing off it.
Keep in mind that some niches will sell much better and more frequently than others. For example, out
of all the niches, I would say that "DVD's and Blu-Ray discs" is one niche people are prepared to pay
for on eBay 365 days a year.
Side Note: When considering if a niche is profitable remember to use your common sense. Seriously,
so many eBay marketers just look at the numbers or they're following a system so strictly that even if they object to the product personally they'll still go ahead and buy and list products that don't sell well—I recommend that you don't.
If your common sense tells you that a niche won't be profitable, don't go ahead with it—even if it meets the other criteria. This is your business and always follow what you believe is best, remembering of course to take the advice of others at the same time. But don't follow courses to the letter, not even mine!
A product you can monetize.
Ok so we've looked at it from a "niche" level which would be things like: DVD's, music CD's,
clothing, collectable plates etc. Notice I said stuff like "collectable plates" instead of "Wizard of Oz Collectors plates" Not too general but not too specific either.
Now we need look at it from the product level, which is more specific to our store. This is one of my little nuggets of gold (if you can call it that) and is something that many eBayers who aren't experienced with selling sometimes forget about . . .
Just because you will be getting a lot of free traffic to your store through eBay, it doesn't mean that you shouldn't scrutinize how profitable each particular product you want to sell actually is.
Here's an example of a product that is plentiful on eBay and that's got all the elements of the equation above except buyers . . . Hardcover and soft-cover books or magazines.
For one of my recent "test" products, I targeted the "Books and Magazine" niche. And when deciding what books or magazines to target I came across a huge amount of comic books for sale on eBay but I didn't bother to see if they were actually SELLING on eBay and I decided "Comic Books" was going to be my new product niche.
So I went and bought 100 Comic Books which were in pristine condition, rare, "number one" or "first" issues and all in protective plastic sleeves.
I listed 10 of the best ones to test the waters and guess what?
The listings had a ton of traffic.
They had close to no competition because nobody else had the exact same comic books listed that I
did.
Although I thought it was in a very profitable niche (I thought the eBay shoppers would obviously be interested in comic books because my comic books were viewed so many times every single day. There were a lot of other Comic Books listed for sale and there are actual "Comic Book" stores in just about every large city so they HAVE to be a great seller right?)
But . . . the visitors on eBay weren't buyers.
Why? Because I suppose they were looking for collectable comic books they can hold and inspect first-hand before buying. Now, you're right in thinking that sure, SOME people after finding a particular comic book that was rare and listed as being in "like New" or "Brand New" condition would then go on to purchase it even without actually inspecting it first hand.
But think about it for a minute.
The chances are that if they're a comic book collector: like a regular frequenter of ComicCon, or comic book stores, they probably wouldn't buy it anyway. They are probably (and this is a sweeping generalization here), looking for a perfect item that they themselves can eventually make money on with no blemishes—which could easily be hidden or not seen at all—without actually holding the comic in their hands and inspecting it. Comic Book collectors don't want to hassle with the item being not exactly what they wanted and having to return it—especially on a product that is usually worth about $5 or less.
So, the individual product you're targeting should not be a product that buyers will want to physically inspect before buying like comic books, instead, it should be more a more popular item or an item that solves a specific problem, like selling handmade wool scarves in the winter. Or dog toys in the summer.
Another example: reselling a product that enables the buyer "to lose weight fast" would be a good one to use because the searcher clearly has a problem that they want to solve. And it's a problem they'll pay to solve too (since weight loss is massive billion dollar market).
Find products that you are interested in and know a little bit about to start off with if possible.
Here are my two product rules:
It must be a product that you can buy CHEAP but brand new or like new. Never buy used DVD's CD's or video games that are scratched because you will never be able to sell them for a profit. Only buy items that look brand new or ARE brand new and still in the shrink wrap. Why? Because listing Brand New products will save you time and won't cost you anything extra. More importantly, buyers are more likely to buy if they know the item they are buying has never been used and is not broken or scratched.
The second and final rule: There should be Under 150 other products exactly like yours actively for sale on eBay—Now, it's important to note that this is the personal figure I came up with and it is by no means set in stone (even I break this rule sometimes if I don't care when an item will sell). Only you can decide what's an acceptable number of competitive products already listed for sale and you will learn this in time. And the reason is simple really: More traffic to your product = more sales and more money for you.

The rule of under 150 or less competitive products that are exactly like the one you are selling is just because quite simply, when there are over 150 of the exact same item for sale on eBay, it drives the price way down and I don't want spend time fighting over pennies, and you don't need to either. We want to create an eBay store that makes over $1500.00 a month to start.
However, if you are just creating a hobby site, and you're prepared to maybe only make $200 a month
from an eBay store, then by all means go for a product that has more than 150 similar products already listed for sale or don't even bother researching it and buy anything you find that's cheap and in great condition. 200 bucks a month is still a lot of money.
Now these are sweeping generalizations I've just made, how profitable your store is, will depend on
other factors as well and not exclusively the products you are selling or the volume of traffic. But you get the idea.
I will say this though…
I'd rather spend an extra five minutes researching products to find one that gets double the traffic and therefore double the sales over the entire listings life, than settle for a really low volume product that limits the stores' profitability right off the bat.
This is a huge point: Don't be lazy with your product research.
Keep looking for a product to sell until you find something GOOD, or a product you know from experience will sell and a product you can buy for a lot less than it's selling on eBay for. Don't settle for second best (a low volume product, or one with very high competition).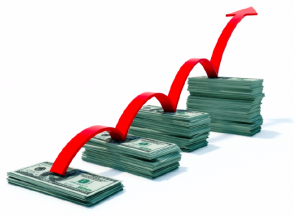 Side note: Most eBay stores will bring in a growing income forever by the way, so taking that extra time to learn what a winning product and niche is, is WELL WORTH IT.
Now, I'd also like to say that there is no MINIMUM number of competitive products to look for, for sale, on eBay (for example you only find one or two items like yours for sale). In fact the more rare the item is, the more money you can make on it—Good ol' supply and demand.
Let the other sellers have the "newest released movies" for example, and let THEM fight over pennies in profits. Like I said before, around 150 items just like the one you want to sell, being listed on eBay, really is a sweet spot between competition and the amount of times your item gets looked at by potential buyers.
Another reason for the rather small 150 items for sale requirement is the massive inaccuracy of the eBay search tool.
Sometimes it under estimates the number of items that are for sale (shows less items in searches than there really are) but usually (80% of the time) it over estimates (e.g. eBay will list 700 similar items when really there's only 70 items just like the one you want to sell).
This is a huge problem, I don't know why eBay lists items in searches that sometimes have nothing to do with the item you want to sell, I mean it's their company conducting the searches right?
So it ain't perfect but it's the best tool we have. Which is why I limit the items that are exactly like mine for sale. Just to be on the safe side.
There is always an exception: The only exception might be a really popular Brand name product, in which case I'd go for it regardless of the search tools estimates if I thought it was popular. Because if a product has demand, then you can bet people are searching for it and will buy it from you quickly.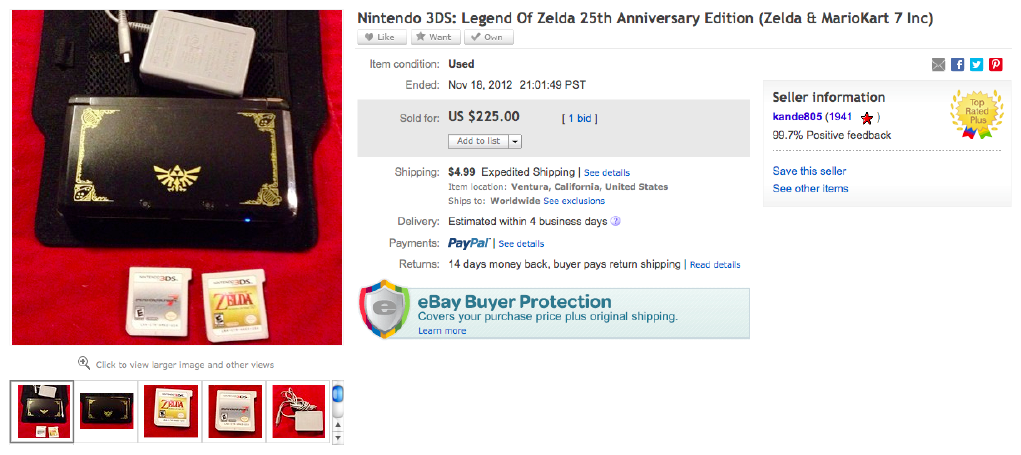 Here's an example: This was one of my fastest sales. I bought this for $40 at a garage sale and it sold within two minutes after listing it for sale! Notice only ONE bid! I reaped a very nice $175.00 profit the same day I bought it!
How do you know if people are actually buying a product? A high "Sold" statistic using the eBay tools would dictate that there's bound to be a lot of people still searching for it and buying it and it also gives you the prices buyers ended up actually paying for the item.
Don't list highly competitive products
Now don't get TOO hung up on levels of competition—I'm serious. Providing you follow my methods, it's a lot easier to have your products rank at the top of the search results and sell within 2 weeks than you think.
Sure, sometimes you won't rank at the very top, and sometimes you will be bumped down by others a few notches before you realize it (once I had a real-time war with another seller, each of us revising our item for sale over and over so we could have the top position and he or she gave up after about an hour). The vast majority of the time however you'll crush the competition as soon as you list your product and take the number one spot in the search results!
So what's an acceptable level of competition? Well, that depends on the product. And because of that, this is an area that many eBay guides leave out, since it's something you'll only really learn from personal experience . . .
But I wanted to come up with an exact system that you can use so that you're not at too much of a disadvantage over the more experienced guys.
Remember that there's no substitute for real experience and you may get it wrong the first couple of times.
My golden competition guidelines
First of all, let's talk about number of competing items. Using the number 150 alone is a pretty inaccurate way of determining if your item will sell.
I recommend that you also, always research, the top five search results in detail and look at the selling prices as well as the number of items each vendor has for sale. Since this is who you're competing with—not the hundreds of people with items listed on pages 2 – 75 of the search results who don't know how to sell things on eBay.
It does help to give you an initial feel for a product. Now, this will vary from product to product but as a rule look for no more than 150 competing products when you search for the specific item you want to start selling.
In other words, if you're product was a Brand New Xbox 360 game titled "Dishonored" you would type into the eBay search box:  "Dishonored Xbox 360" and see how many products were already listed for sale as a result.

Here is the result I got in the order eBay listed them: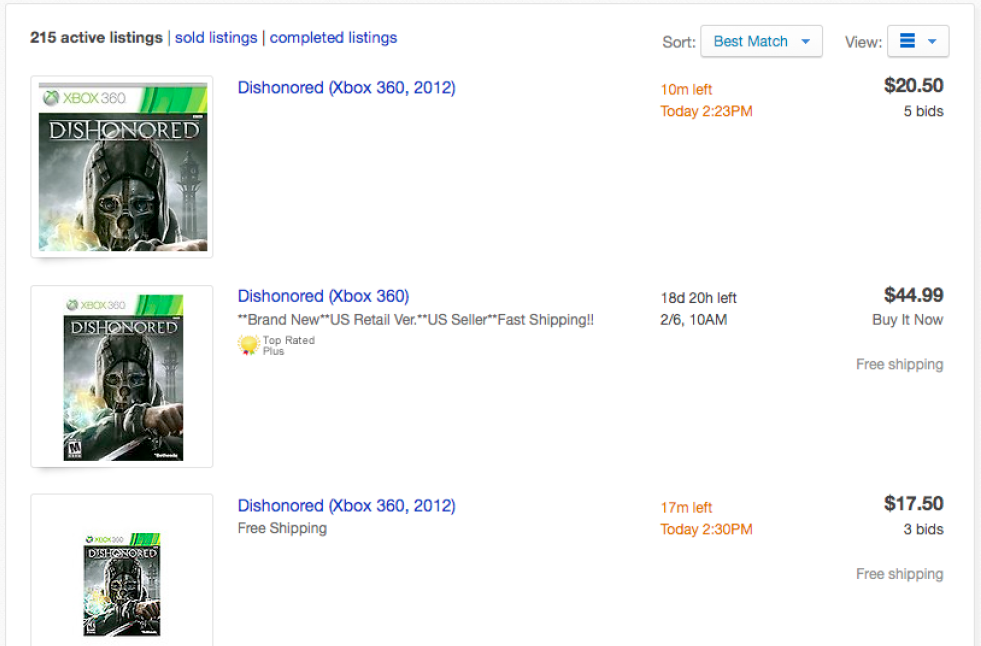 Notice that the listings are sorted by "Best Match." This is eBays default search and will never give you the best price first.
Notice there are auctions mixed in with "buy it now" listings.
You can't tell if the items are new unless it's specifically listed in the subtitle like the second listing shown.
Notice there are 215 active items listed—above the 150 item threshold.
Don't worry because we will take this search result and refine it to make a more helpful custom list we can use.
We need to sort the products in a more "seller friendly way" and see if we'll be able to outrank the competing products already listed and still make a profit. Here is how I do it:
Condition
If your product is Brand New, click on the "New" check box on the left hand side of the search page.

This will reduce the items listed in the search to only the products that are brand new. And the only tricky part is remembering that if your item is USED, then leave all the boxes unchecked because you want to see the price of the cheapest "new" item as well as the cheapest "used" item.
You don't want to price your used item higher than a brand new one or people will just buy the brand new product and you will never make a sale.
Yes, this happens ALL the time by eBay sellers who under price their items so watch out for it.
Format: Auction or Buy Now
Most of the products I'm going to teach you to sell are "buy it now" products. This means there is a set price for the item. You're not going to do most of your selling at auction. Auctions are very unpredictable on eBay and should only be used with very high-demand items like silver bars and coins, or gold. Clicking the 'Buy it Now" button will reduce the search results further, removing the items that are listed at auction.
Sort Order
There is a 'pull down tab" at the right side and top of your search results that will allow you to sort your search results according to what your needs are. For some reason eBay's default search is for "Best Match" which never gives you the best deal, which is what you are looking for.
The other options include "Time ending soonest," "Time: newly listed," "Price + Shipping: lowest
first," "Price + Shipping: highest first," "Price: highest first," and "Distance: nearest first."
The ONLY one I recommend and the only one I ever use—buying or selling—is "Price + Shipping: lowest first."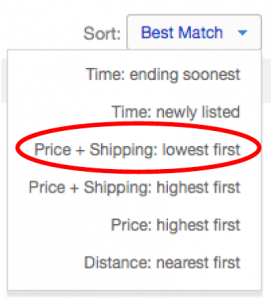 Weather you are buying or selling on eBay, "Price + Shipping lowest first" gives you the very cheapest
item at the very top of the search results, taking the shipping charge into consideration as well as the price.
Basically it shows you the best deal available and that's what everyone is looking for right?
Ok, with those three items selected, you will get a search result that you can use. Weather you're a buyer or a seller, you will want the item at the top of the list.
Example
Here's the game from the example above which I sold in less than an hour and made a nice $25 profit. I picked up a brand new copy of the Xbox 360 game Dishonored (2012) for $5.00 along with about 50 other games and DVD's for $1 to $5 each.
I did a search for my product, "Dishonored Xbox 360 2012" and then filtered the results of the search by checking "New," "Buy It Now" and selecting sort by "Price + Shipping lowest first."
This is my search result:
You can see, that the top three products are all within 10 cents of each other and all of them are New
and Buy it Now—not Auction or used.
Also, notice that none of them are the same top three results I got with the previous search.
So, this gives me the info I need to be able list my product at the highest possible price and still get the very next sale on eBay because I will place my product at the top of the list and bump all the others down. I do this simply by making sure my listing is a "buy it now" listing with a price slightly lower than the one on top.
I now know exactly what the lowest price is for the item I want to sell. If I know I can buy 10 of these games at $5 each, I now know I can resell them for at least $38 each or a 500% profit each! I also know if the person who is wanting to sell me the item is asking $40 for it, that I won't be able to make any money on eBay even though it's selling in retail stores for more than $60 each.
Here is a copy of my actual listing: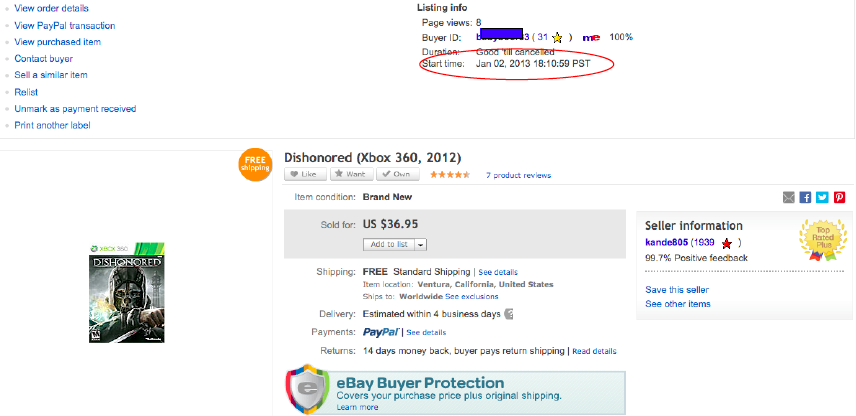 Notice the Start time: January 02, 2013 at 6:10 PM and that the item was viewed only 8 times before someone bought it within an hour of listing it, making me about $25 profit.
If I had been able to buy and list 10 of them I would have made a $250.00 profit in just a few hours with only one listing and only one product. Now granted, finding 10 of any item that is new at those prices is rare, but it can be done and regardless, this was just ONE item I bought and sold that day with very little effort.
So, as a closing summary on competition:
Take all of the above guidelines into account also never buy 

new releases and very popular products that everyone has already bought, like Men in Black DVD's. 

If your product is fairly rare and brand new and will bring a decent profit then by all means get as 

many as you can and list them for sale.

But if it has a lot of competition, driving the price down, 

well below retail store prices and lower than you can buy it for then stay clear and find another product 

to sell.
Buying Products to Resell
So far, we've gone through, in detail, what attributes you're looking for when picking product to sell.
It's a combination of a worthwhile amount of traffic, an eBay market full of hungry buyers, a product
people are buying, and an acceptable level of competition.
So, how do you actually find these products to resell and make money on?
First of all we need to decide on a general area to look in. Basically—we need someplace to buy cheap and mostly brand new items that we can readily sell. Makes sense right?
Therefore, we need to shop at Swap Meets, Flea Markets, Garage Sales, Estate Sales, Thrift stores, The 99 Cent Store, Big Lots or similar stores.
Swap Meets and Flea Markets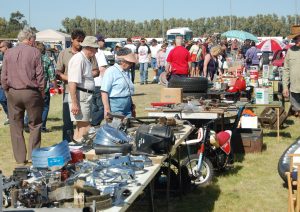 Usually known to sell junk, swap meets and flea markets are also places where people make a living selling the items they bought from Storage Unit Auctions—think "Storage Wars."
Yes, there is your typical 20 year-old chainsaw without a chain for sale and the various stalls that seem to specialize in odd rusty-pipe parts and old tools but this is also where you can find whole boxes of brand new or "like new" items from people who are willing to sell at dirt cheap prices—either because they don't realize what they are worth or just don't want to pack it up and bring it home at the end of the day.
Be sure to barter with the seller. It's expected and you will almost always get a better price. If they have a lot of new items offer to buy all of them at a 50% discount.
Some of my favorite items to buy at Swap Meets and Flea markets are brand new DVD's and Blu-ray discs. I bought a brand new Star Wars Trilogy 3-DVD set for $7 that I sold on Ebay for $149.95 within 24 hours of listing it.
I also found a whole set of brand new Carol Burnett DVD's (20 in the set) for $10 and I sold them individually for $9.95 each—a 2000% profit over a period of about 2 weeks.
Also, keep an eye out for miscellaneous items from people selling auctioned off storage unit contents. I bought two giant boxes of brand new Wizard of Oz Collectables for $300.00 about a year ago. So far I have made over $7000.00 on the contents of the 2 boxes and still have about 25 brand-new collectable plates for sale at $69.95 each.
The possibilities are endless and every week there are new and completely different items. Swap Meets and Flea markets can provide an endless supply of products that you can sell on eBay for MASSIVE profits.
Garage Sales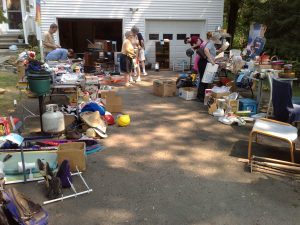 The one rule to remember about garage sales is: get there early. Garage Sales are also places where Swap Meet vendors go to buy more stuff to sell at their Swap Meet booths. So if you want the good stuff, you need to show up early and go to as many as you can. Chances are you will beat most of the Swap Meet vendors to a fair amount of garage sales before they can pick through them.
You never know what you're going to find at a Garage sale but as usual, only buy items that are still brand new and in the shrink wrap or in like new condition with no scratches or defects.
Estate Sales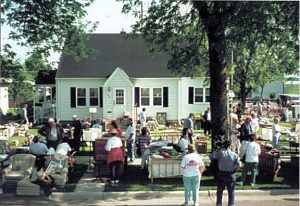 Estate sales are a great place to buy antiques, sterling silver, coin collections, brand new or like new DVD's, Music CD's and a lot of other "treasures" that you can sell for a profit.
I once found a complete 1950's large train set for sale. I know nothing about train sets but I saw that everything was brand new and it had people and extra cars and flashing lights and draw bridges and all in their original 1950's boxes. I paid $150.00 for the entire set and sold it on eBay as a "buy it Now" product for $895.00. It was listed for about 3 weeks before it sold.
The only problem with this sale was that I offered FREE shipping and paid twice as much as I was calculating because I had to ship it all in two large boxes. It cost me about $80.00 to ship so I still made over 130% profit on my purchase.
The 99 Cent Store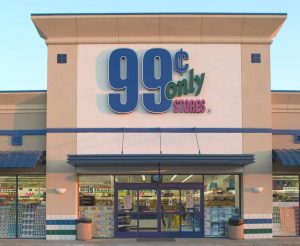 This is another Gold Nugget: The 99 Cent Store is a great place to shop for brand new items and then resell them on eBay. Very few people have caught on to this so far so there is very little competition for the items you buy here.
You still have to buy an item that will sell. Just because it's new and you bought it for 99 cents, does not mean you can make a profit on it because it might only be selling for 99 cents or less on eBay!
One of the items you CAN make money on are: Dog Leashes. Make sure they are 6-feet long because dog trainers need 6 foot leashes and you can sell a ton of them on eBay for $4.95 each and make a killing.
Here's a secret nobody will tell you: If you buy out all the 99 Cent Stores' stock of dog leashes and go back for more but they don't have any in stock, just call the 99 Cent Store 800 number and tell them you would like to order more. You need the bar code number from the back of the product you want to order and you have to spend at least $50 but they will ship them free of charge to your nearest 99 Cent Store or right to your door!
Computer software, computer games, and DVD's are other items you can purchase at the 99 Cent Store and make a lot of money on.
Stay away from heavy items like dog or cat food, and cheap plastic electronics like calculators and
flashlights.
I encourage you to use your own judgement. If you think you can sell something for at least $4.95 on Ebay that you can buy for 99 cents then buy one, bring it home and try to sell it. If it sells within two weeks, go get a bunch more!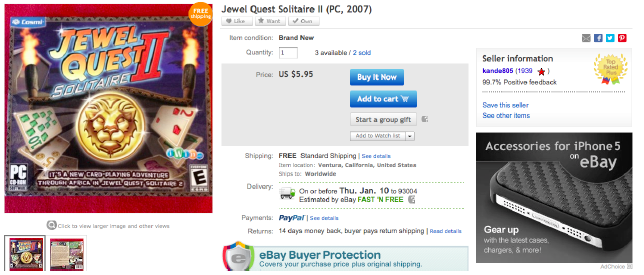 Here is an item that I bought last week at The 99 Cent Store. You can see that I have already sold 2 of them for $5.95 each and have 3 more available. I have already made more than my money back and the rest are pure profit—and the best thing is that I have almost NO competition on these products!
Big Lots
Big Lots is where I go specifically to buy new DVD's. They seem to get all the DVD's that other stores are tired of selling to make way for new inventory.
I can usually get brand new DVD's for $3 each and sell them for $9.95 or more depending on the DVD.
Be aware however, that this is where using your smartphone with the eBay App comes in handy. Because a lot of the DVD's for sale at Big Lots are selling for more at Big Lots (even at $1.89 each) than you can sell them for on eBay.
Sometimes I leave Big Lots with only 1 or 2 DVD's because the others are junk even brand new. So watch out at Big Lots and use your eBay app if you have one or don't go there at all because 75% of their cheap DVD's are even cheaper on eBay.
I have seen some brand new DVDs for sale at Big Lots for only $3 each but selling on eBay for $2.89 and FREE shipping.  You would lose money on this deal if you don't check eBay before you buy.

Here's an example of a couple of DVD's that I bought at Big Lots for $1.89 each: You can see I sold
both of the DVD's I had available for $3.98 each and $2.99 shipping. I made $3 profit or about 80% of
each sale, $2 from the price of the DVD and $1 from the shipping charge. So even after eBay fees, I
still made over 75% profit on this item in just a few days. Remember, this is just one item out of 400 that I usually have for sale.
No matter where you go to buy your products, the most important thing is that you make sure you can make money selling the items before you buy them. Therefore, I tend to look for an item or group of items, that look like they would sell and then open my eBay app on my phone and see what the current lowest price is for "price + shipping" and see if I can make money on it.
This one step has saved me lots of money on worthless items and enabled me to buy all the store's stock of profitable items that I know I can double my money on.
So, that's it!
So far, we've looked at a hell of a lot stuff. You should now know or have a pretty good idea of exactly what your eBay store is going to be selling and what type of products you're going to target. Now we need to build the website…
Creating Your eBay Store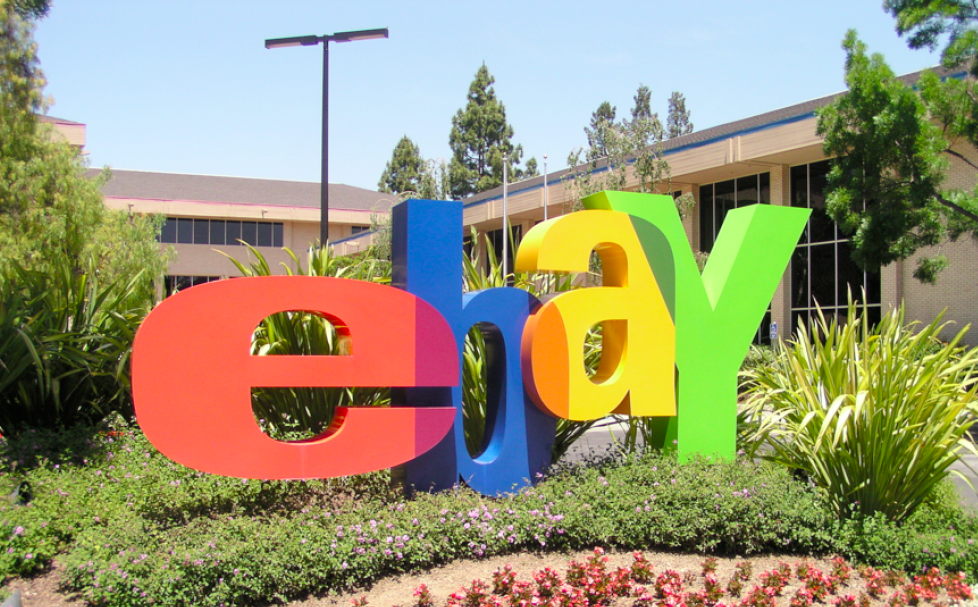 Phew!
So by now you should have found some suitable products to sell or at least have an idea about what you will be shopping for. It is now time that we create the eBay store itself. This is a pretty simple chapter and all you need to do is follow along step by step – We will cover some basics here, so bear with me or skip over this section if you're a more experienced eBayer.
So why sell your stuff on eBay and not create your own website?
I have done both and I can tell you without a doubt that in order to sell items on the internet you need traffic—visitors to your site. Without traffic you won't have any sales. eBay has millions of customers that want to buy things—NOW.  All you have to do is list them for the customers to buy.
Some other advantages about using eBay are:
It's free. Yes. Completely free to set up a store, which saves you several hundred dollars right off the bat.
No Domain Name registration fees and no threat of someone stealing your domain name that you probably would spend hours trying to create.
Anyone can set up a professional storefront; you don't need to know ANY coding or waste time trying to think of keywords!
It's so much quicker to build a good looking professional site using eBay's tools than even using WordPress.
No Search Engine Optimization (SEO) required. This alone will save you hours of your precious 

time.

No Keywords to search for—ever.
The ability to sell an item just minutes after you list it (yes, this happens a lot) rather than waiting months or even years for enough people to discover your own webstore.
The option of having a auction or listing an item at a fixed price.
NO MARKETING or PRESELLING! This alone is a huge advantage because the people who visit your product pages are there because they already know what they want to buy and since you will have the best price on eBay thanks to this guide, the sale is almost always guaranteed.
So lets get started shall we?
Step #1 Register for an eBay account

Go to ebay.com and click on the word "Register" in the upper left-hand corner:
Step #2
Create a personal account—not a business account unless you already have an established business and have a Federal Employer Tax ID#. Fill out this simple form, the most complicated part is thinking of a good eBay user ID, but even this is not important to your buyers so pick something easy that you like.

After successfully filling out this form, a pop-up window will appear stating "Welcome!" and showing your email address. Click "Submit" and presto! You are now an ebayer! Simple eh?
It's important to pick a good user ID. Few people would want to buy from someone new named FrankieFourFingers.
Step #3
Additional Information
But wait!
Before you can start selling you need to add some more information about yourself. The easiest way to do this is by moving your mouse cursor over the word "sell" at the top of the page. A small drop down menu will appear.
Click on "Sell an item" and the following window will appear: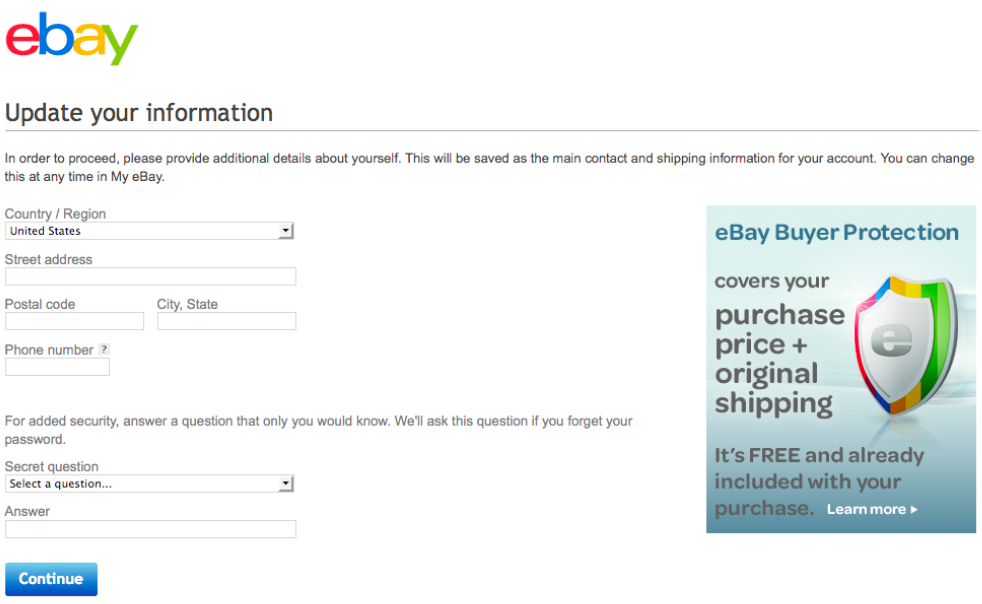 Simply fill out the information above and click "Continue" and . . . now you're ready to List your first item! It's just THAT EASY!
Opening a PayPal Account
Before you go rushing off to buy products and list them, it's a very good idea and one I highly recommend, to open a PayPal account if you don't already have one. It is the easiest way to get paid and you don't have to deal with credit cards. It's also the best way to buy things on eBay since it keeps all your credit card numbers private.
If you don't like PayPal, and some people can't stand it for some reason, there are other payment processing companies out there that you can use with eBay. Money Bookers is just one of the alternates and in my opinion the second best next to PayPal.
Keep in mind, that most people have and use PayPal. Refusing to become a PayPal vendor will only hurt your sales volume.
I suggest opening both a PayPal account and a Money Booker account to give people an option, but I personally have only used PayPal and never had a problem or had someone ask me if I take other forms of payment.
I did have one person ask if they could pay with a money order in the past 3 years and I said "Yes!" Never turn down a sale unless you are going to lose money in the deal.
Now go get something to sell and come back and read the next section!
Selling your Items on eBay
Ok. After you have an item to sell and some way to get paid for it, simply move your cursor over the
word "Sell" at the top left side of your eBay screen.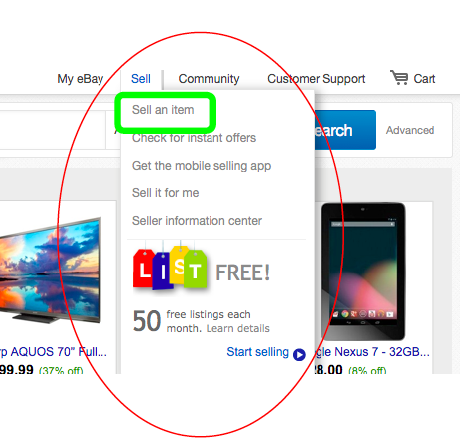 A drop down menu will appear. Select "Sell an item."
A new window will open: I'm going to use a Halo 4 Xbox 360 game in this example . . .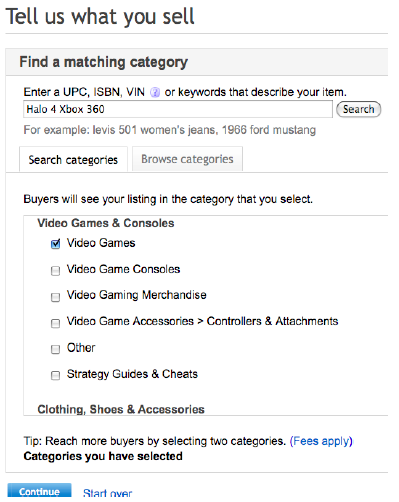 Type in the name of the item and select the category: In this case "Video Games." Click Continue.
NOTE: More listing choices, gives you many more options and allows you to choose things like adding a State Sales tax if needed and gives you the option of adding up to 12 free photos instead of 4. So even though it might be tempting for the first timers to click on "Keep it Simple" all it will do is give you less options, less customization and ultimately less sales.
Creating your listing
You have to include a title, condition, description, price, shipping details, and payment information. You also need to select the selling format—for example, whether people bid auction-style or buy the item for a fixed priced that you set. I am strongly recommending using ONLY the "buy it now" option for everything except "high demand" "guaranteed sell" items such as Silver and Gold coins and bullion.
Title

This is the name of your product. In my Example it's a Dragnet DVD. Fill in the name of what you are
selling. This is what the buyer will see in the listing so make it specific and short. DO NOT use a
subtitle unless it is free.
Condition

New, Like New, Very Good, Good, Acceptable or Fair.
You need to choose one that best fits your product's condition and please make sure it's accurate. You want your customers to be happy and the one thing they complain most about is buying an item that is listed as "like new" only to find out it's really in "Very good" condition.
You want to become a Top Rated Powerseller and the best way to do this is by being honest up front and getting positive feedback (I will discuss feedback later). This is also why I prefer to sell brand new items—because there can be no question about it's quality when it's still wrapped in the factory packaging.
Item description
This is where you describe your product to let people know exactly what you are selling.
It can be short and sweet. For example, when I sell 10 ounce bars of Silver, I put in the Item Description box:
"10 troy ounce .999 fine silver"
That's it!
Now if I were selling an antique sterling silver platter, I would include a more complete description with the year it was made, the style and manufacturer, it's diameter in inches and millimeters and maybe a little bit about it's history.
This is the place where you "Pre-sell" your item. Where you have a chance to point out the good things about your item as well as being honest and pointing out any blemishes it might have.
Remember we want repeat customers and the only way to do that is to have happy customers who know that you are an honest eBay seller.
Price
This one is trickier than it looks. You need to do a product search for the item you are selling to get a list of all the items just like yours that are selling on ebay right now. Remember to sort them by "Shipping + Price: lowest first." And make sure the boxes are checked next to "New" if your item is new and "Buy it now" weather it's new or not.
It will give you a list of items with the best deal at the top. This is the price you need to beat if you want your item to sell quickly. I'll use my previous example to show you what I mean. The following are the three best deals including shipping costs on the Dishonored Xbox 360 game for sale on ebay with "buy it now" "new" boxes checked.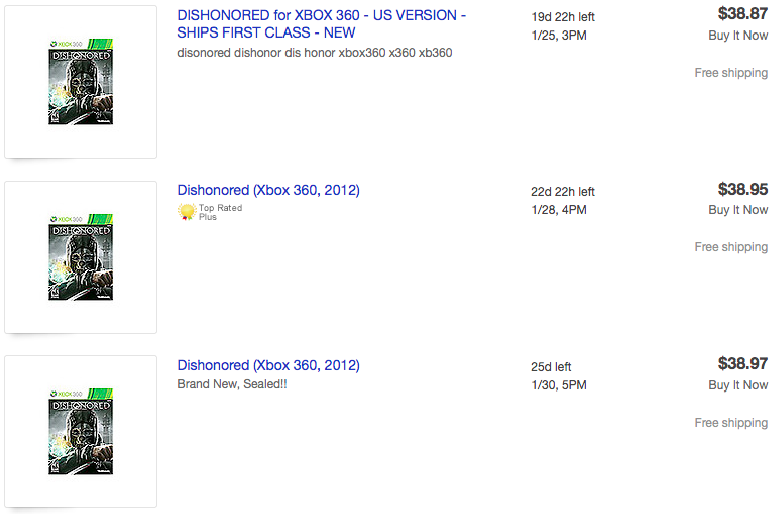 You can see that the cheapest price listed so far is $38.87 with free shipping.
All you have to do is beat this price by one penny and your item, in this case, my Dishonored Xbox game, will be the new TOP listing and probably the next to be sold. I had bought my game for only $5 and wanted a quick sale so I listed it lower at $36.95 and it sold within an hour.
Duration of the listing
Duration is the length of time you want to run your ad. You will almost always want to leave this set at "Good Till Canceled."

The only exception is for Auctions and for items that are seasonal, like Christmas Ornaments. Otherwise always select Good 'til Cancelled. This means your item will automatically be re-listed every 30 days and when you have hundreds of items for sale, you don't need to be wasting time relishing items every day. Set it and forget it until it sells.
Shipping Details
Always offer FREE shipping on all your items whenever possible, but make sure you add the shipping cost into the price of the item.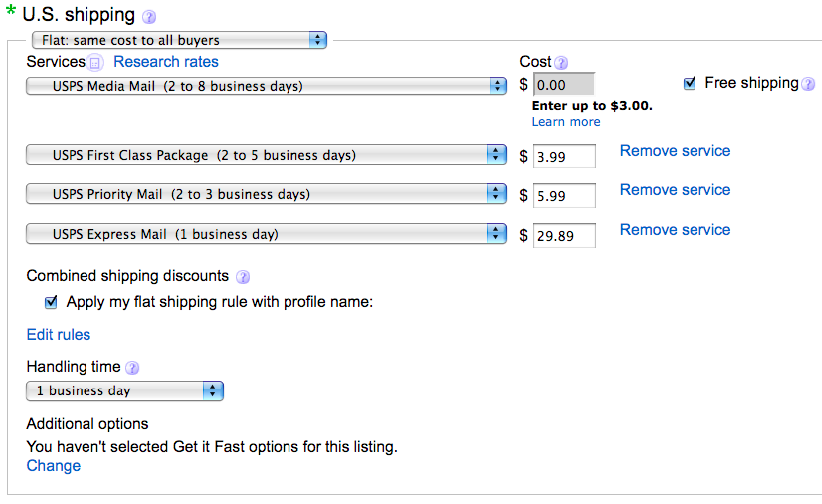 For example, it costs anywhere from $1.64 to $1.91 for postage to ship the average DVD plus about 15 cents for each padded envelope.
So always take this into consideration when setting the price of an item.
You don't want to sell a DVD for $4.00 if you paid $2 for it and it's going to cost you $2 to ship it plus eBay Final Value fees of 15%. You could actually end up loosing money on that deal. Just keep this in mind when offering Free shipping. But always offer it whenever possible because customers love it even though they don't realize they are paying for shipping anyway.
Exclude Shipping Locations
Always exclude Argentina, Brazil and Venezuela . If you are from these countries I am sorry, but I have had 99% of my shipments disappear and never get to their destinations in those three countries.
Then, because of eBay buyer protection, I am required to give the buyer a full refund plus the shipping price, so we loose our products AND have to pay shipping charges on top of it.
It's worth taking the time to exclude those countries from your "sell-to" list.
Shipping by Weight
NOTE: eBay makes shipping very easy but only if you have your own kitchen scale that has units of measure in .01 ounce increments.
The USPS and others ship by weight and round up or down to the nearest whole ounce. So if my
package weighs 4.4 ounces, I pay for 4 ounces, if it's 4.5 ounces I pay for 5 ounces. As long as you
have a fairly accurate scale you won't run into problems.
I started out for the whole first year, taking all my packages to the post office or a "Pack-n-Post" shipping place. Then I discovered just how easy it is to buy and print postage right from eBay and have them automatically upload my buyer the tracking information.
I can even leave all my packages outside by the mailbox every day for pick-up!
I was shocked and disappointed that I hadn't done it much sooner and my Postman LOVES me. He
thanks me for keeping the USPS in business every time I see him. I think my packages are the only
ones in the back of his truck sometimes.
You need to know approximately how much an item weights and then add on some weight for the
packaging in your sales price. I usually add just a few ounces unless it's a large box.
If you are using a large cardboard box then maybe add a pound to the shipping weight.
I use the USPS for ALL my shipping needs. Fed Ex and UPS are way too expensive and UPS seems to love to destroy boxes. Every box I have ever received via UPS has been crushed and then they leave the package at my doorstep, ring the doorbell and run as fast as they can back to their truck before I can answer the door and discover the damage.
So I have sworn I would never use them for shipping and I'm glad they are much more expensive than the US Postal Service so that I'm not even tempted to use them.
For items under 13 ounces I always ship via USPS First Class Mail. It seems to get to most places in the United States, within 1-2 days and my customers LOVE fast shipping.
For items over 13 ounces, I use Media mail for media type of stuff ie: books, DVD's CD's etc. And
Priority Mail for everything else but the very large items.
Surprisingly Priority Mail is cheaper than Parcel Post and a heck of a lot faster.
Pictures
You must include at least one picture of your item. Any good quality picture will do. If you are selling DVD's or Games, eBay will usually supply a picture for you like in the above example and also supply the product description, but if you are listing something like silverware, you will need to upload your own pictures and if you're selling expensive items like that, multiple pictures are a plus.
Upload enough pictures to give buyers multiple views (e.g. front, back, side, and close-up details) of your item because it gives your potential buyers more confidence that they are getting what they are paying for.
I usually use my iPhone camera and the eBay App to take and upload pictures. However I have used a
scanner to scan images of small items like rare coins and a regular digital, 5 Mega Pixel camera to take
better quality close-ups of antiques. The iPhone camera's are excellent to use for just about any picture.
Listing Designer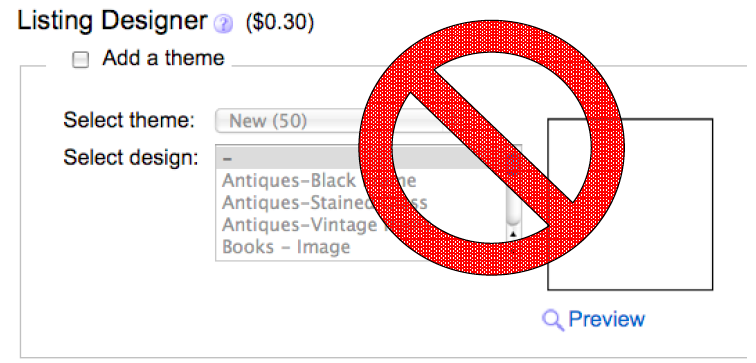 Never pay for this. Leave it unchecked. It's another 30 cents you don't need to spend every month. Remember, if you have 100 items listed that 30 cents just turned into $30. You don't need it. I have never used it.
Add On's
For a fee, you can also add features like listing in 2 categories, which I never suggest and have never done. It is not necessary and despite what they tell you it will not increase your sales.
Most people don't search for an item by its category. They search for an item using its product name, in which case, the buyer will find your product no matter what category you list it under.
In short, we want to list items as cheaply as possible. So DO NOT go for the "Gallery" pictures, or "Bold" print either. These items are gimmicks by eBay to drive up your listing fees and they will be charged to you on a recurring basis weather or not your item sells. I have never paid for these extras and have never had a problem selling items on eBay.
Subtitle

Only use it if they offer it for FREE.
Otherwise eBay wants to charge you $1.50 every month just for an added subtitle.
For some reason, eBay has always offered a FREE subtitle listing for DVD's VHS tapes and Video Games, so if it's FREE by all means use it.
99% of the time I just put the condition of the item I'm selling into the subtitle space—"Brand New" for example. But again, only if they offer it for FREE. Otherwise it's a complete rip-off in my opinion.
As you can see from the screen shot above, eBay does offer free subtitles on some items. For DVD's, Music CD's and Video Games they have had their "limited time" sale going for at least 2 years now, but I'm not complaining.
Return Policy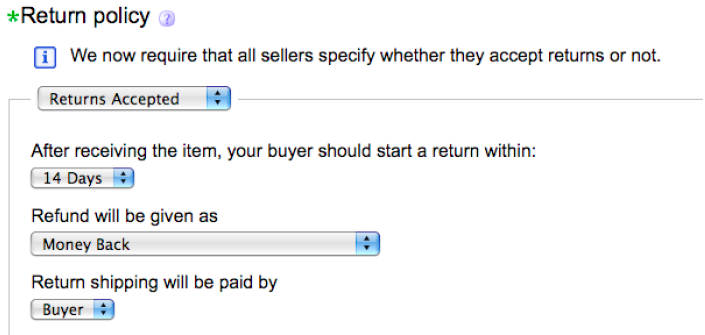 If you want Top Rated Seller status you must have a return policy with a money back guarantee of at
least 14 days.
Set your return policy as pictured above.
After you are finished filing in your product information, Click on "Continue" and you can review the fees (if any) on the next page before submitting your listing.
Review Your Listing
You are almost done with your first listing! Just a few final items to check.
Gallery Plus

They claim this will make your listing stand out and sell more, but I have never used it and never had a
problem selling anything. I would recommend NOT spending the money on this.
Bold

Ok, this has got to be a joke right? $4.00 just to make your title bold. If you are selling a $40,000.00
car maybe, but cheap stuff from stores? Nope, The bold print costs more than some of the items I sell.
Review Your Fees
Like it says, when your item sells you will be charged a "Final Value Fee" which is usually 15% of the price of the item PLUS shipping costs! So if you sell something for $5 and it costs $45 to ship, you will be charged a "final value fee" of 15% of $50 (5+45) or $7.50 so keep this in mind when selling heavy items.
List Your Item
If everything is correct, click the "List your Item" button.
Congratulations!

It's as simple as that. Now all you need to do is repeat these steps over and over until you have a good
inventory of items for sale. The most difficult time I am having is trying to keep more than 400 items
listed. It seems I can't list them fast enough to keep up with sales once I get past 400.
Final word
And so my final words are these . . . Do it.
I've laid the entire system out for you, and revealed every detail. All you need to do now is actually put
it into action.
You really have no excuse. I know there's a lot of work-from-home systems out there that are complicated, or require a lot of work and/or capital to start up (blogging and pay-per-click, and affiliate marketing come to mind).
But with this Making a Living On eBay guide, you truly have no excuse.
It costs pennies for each listing, takes just hours to set up and I've really covered everything you need to know down to the very last detail.
All that's left now is to put what you've here learned into action. That, and make some money of course.
I hope that you've enjoyed "Making a Living on eBay." I certainly enjoyed writing it. I wish you the absolute best of luck in your future eBay ventures.
Remember, if you feel this information has helped you, please share the love and click on a few ads on this page. It won't cost you anything, you might find some really good deals, and the owners of this website will be throwing me a few cents as a thank-you in the process!
To your continued success,
Eric Thomas