Auto Dealership Manager Traps Family In Their Home behind 6′ Wall of Snow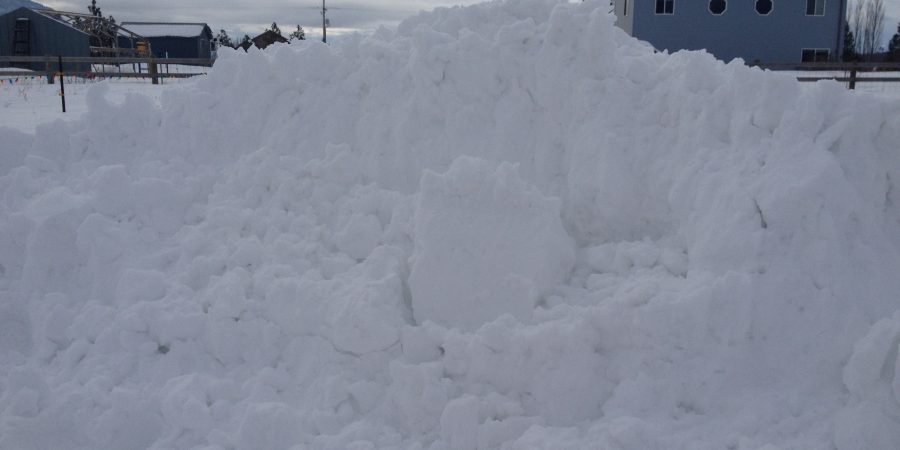 A Montana family woke up this morning to find a giant 6-foot tall snow pile trapping them in their home. Yes, the snow storm was bad last night but this wasn't the work of God. This was allegedly the work of a DonK Chevrolet manager who came to rescue an employee who was stuck in the snow and then left, trapping a family of 5 including an infant, behind a snow bank, 1/4 mile from the nearest road.
Greg, the manager from DonK Chevrolet in Whitefish, Montana, allegedly got his own snow plow stuck in a ditch along the private road, walked out to the highway, waved down another snow plow to pull him out, and then left the giant snow bank he had created blocking the families driveway. The family made several calls and left messages with Don Kaltschmidt himself which, as of this writing have gone unreturned.
"This is insane! He plowed my private road without my permission and trapped my family behind a 6 foot pile of snow and just left. I could have gotten out of my driveway if they had just left it alone. Now, we can't go to the store, can't go to the hospital, and emergency vehicles can't make it to my home if needed." said Eric von Kleinsmid, the owner of the property. "To add insult to injury, the belt on my snow blower broke yesterday and I can't even go get a replacement to blow my own driveway."
"What type of person would rescue one person while blockading and then abandoning a family of 5 including a 4-week old infant behind a 6-foot wall of snow? Apparently Greg at DonK is who."
At this point Greg appears to be guilty of creating a nuisance by violating Montana Statute Title 27, Chapter 30, Sections 1 – 3 : " . . . an obstruction to the free use of property, so as to interfere with the comfortable enjoyment of life or property, or that unlawfully obstructs the free passage or use, in the customary manner . . .  is a nuisance."
Under Montana State law creating a nuisance is subject to damages under 27-30-103. A nuisance is the subject of an action. Such action may be brought by any person whose property is injuriously affected or whose personal enjoyment is lessened by the nuisance, and by the judgment the nuisance may be enjoined or abated, as well as damages recovered.
Mr. von Kleinsmid is not saying yet if he plans to peruse legal remedy. "You can't come on my private property and plow my driveway and then purposely trap us behind a wall of snow." If this is the IQ level of the managers at DonK Chevrolet, maybe we should reconsider using them from now on. If Greg comes back and fixes what he did, I might let it go, but if he thinks it's ok to trap a family behind a wall of snow and leave, he's got another thing coming."
*******

*******
*******
*****UPDATE*****
Later that day, a snow plow, hired by Don K, cleared the huge pile of snow left at the scene. They even plowed the entire parking area!